Friday, July 12, 2013
Friday Thoughts and Links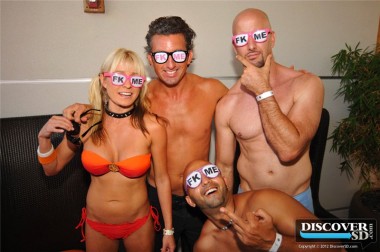 Joey's Bikini and Speedo Party. Cleveland, Ohio. February.
Where even Clorox dares not to scrub.
Speaking of violent dismemberment, Sharknado was everything that I thought it could be and more. This interview with the writer of Sharknado, naturally a hipster Jew named Thunder Levin, is one of the greatest things ever written. I feel satiated. And anticipatory of shark week. So I got that going for me.
Yup. An unventful week.
Los Angeles finally got over its heatwave so your humb narrs chews on some stale Mallomars and contemplates the state of belly lint.
Philosophy is like chocolate. It gets melty if you leave it in the sun.
Here's your links:
Your HCwDB DVD post-Sharknado pic of the week: "This sweet little fish called the grunion swims up out of the ocean, onto the beach, for a moment of privacy for his mating ritual. And human beings swoop down on him, scoop him up, and fry him for dinner."
Bon Jovi's new album, New Jersey, gets it right.
This won't end well. It's like 70s David Bowie got Brundleflied with a Bratz doll. And yes, I just used Brundleflied as a verb. Or maybe an adjective. Me not grammar good.
Oh Captain Pubing. Your wacky dubstep lightshow infused MDMA noxious parties are all that sucks the joy and life out of youthful exuberance. How you make me long for Threes Company vs. The Love Boat on Family Feud. How many people think Cleveland is an important American city? Survey Says?… zero.
Bored this weekend? 33 Minutes of Fail makes the time go quicker.
When hipsters tire of raising chickens, this happens. Maybe I won't move to Portland after all.
What happens when irony stares in the mirror.
Okay, for all your hard work mocking 'bags this week, here ya go:
For it is pensive and poetic for this summer Friday.