Friday, July 19, 2013
Friday Thoughts and Links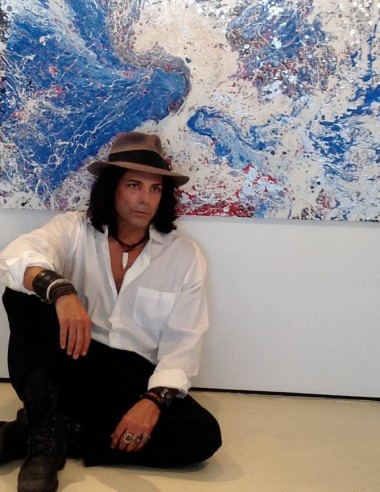 The now pensive Unholy Grieco sits amidst his art and contemplates the Grieco Virus that He unleashed uponst the world.
Back when He was just a scrotey Hollywood greaser. A clueless Origin Douche setting the template for decades of douchebags to come.
And, of course his Original Sin, to grease and taint the purity of The Holy Bleeth.
Those endless mid-90s nights.
Oh so long ago.
How the world has changed on you, Grieco. What a scary, alien place it is today in our post Jersey Shore world. The Grieco is sad.
And, in a way, I'm sympathetic for the greasy Grieco's sad and lonely plight.
But at least the insular world of crappy abstract art holds some form of solitary resonance for Sad Grieco. Like the Trappist Monks of yore, the Grieco can meditate and allow his mind to go fully blank. Which, if you think about it, is really for the best for all those involved.
Yes, the Grieco meditates.
And so does the DB1.
Here's your links:
Wanna help pay the bills around here? Why not join Amazon Prime?
. Don't cost nuthin'. Oh wait, actually it does. But c'mon, it's free movie streaming n' shit. Do it.
So I randomly stumbled across this great interview with iconic director Martha Coolidge. She of "Real Genius" masterwork. Well worth a read. Loved the dish on working with the late, great, apparently slightly dickish John Hughes.
When planning on robbing a bank, best not to try the Wizard invisible strategy.
Pictures of the summer of '69. No, not that '69 ya perv.
Justin Timberlake continues on his long road to post boy-band redemption with this r-rated video that's kind of a ballsy choice.
Posing DJs. Or, as I like to call them, "iPods that bleed."
Okay, nuff of that. Here ya go:
Real world firmness that is understated, yet quarter bouncing.