Friday, July 26, 2013
Friday Thoughts and Links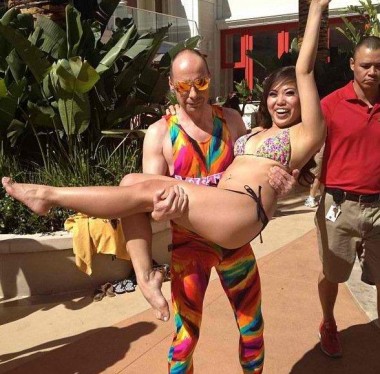 Do you already hate Mister Tony as much as I do?
Do you realize his clownish antics in presence of hot chicks contains none of the joir de vive we come to associate with the finest of top shelf 'bags that we mock on this site?
If so, I agree with you.
Mister Tony is hereby banished to the netherlands of nonmock.
No, not even if we wears ridiculous getups like this.
Paid to clown Vegas doucheclowns have no business being on such a classy site as HCwDB.
Oh wait. Yeah, I guess they do.
My standards are as shrunken as a baseball player's nads.
Here's yer links:
Here's an accessory from the life change that's about to befall your humble narrator.
Forget Weiner. Vote Boner.
Douchey ad campaigns. Still out there.
Amazing article on the early days of Queen and the diva-ness of Freddie Mercury.
I'm pretty sure this is one of my ex-girlfriends.
Jimmy Kimmel exposes Cochella attendees as idiotic herpster posers.
Explaining women in one satirical video clip: It's not about the nail!
In England, a 14 year old girl Fights the Bleeth.
And then there's champagne delivered by skydiving. For the idiot who has everything and likes to waste resources.
Okay, you've been good. Here you go:
You're welcome.