Tuesday, July 23, 2013
Mister Tony Gets in the Crabsmas Spirit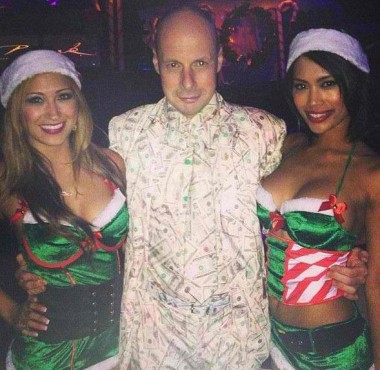 Who doesn't fondly recall the Crabmas rituals of youth?
Sitting around by the hearth. Giddy on sugar cookies and rice wine.
Eager to open my Crabsmas presents that had been brought down the chimney by Santa Crotch.
How those warm childhood memories resonate over time. Familial traditions passed down from parent to child like virulent sores in a Burmanese whorehouse.
Far be it for me to criticize Mister Tony and his lady friends for dressing up in celebratory tones to honor the Crabsmas traditions. For these primitive thespians are simply basking the wondrous winter wonderland of bottle service roasting on an an open fire.
When not a creature was stirring. Not even Deadmouse. And the egg nog was spiked with daft spunk.
And Father Crabsmas shouted merrily from each and every rooftop… "Hoe Hoe Hoe!! Merry Crabsmas!!"
And Tiny Timbaland shed his crotches, leapt to his feet, and shouted "Merry Crabsmas to all, and to all a good M. Night Shyamalan!!"
Okay. I get a coffee now.