Tuesday, July 16, 2013
True Confessionals With Jacques Doucheteau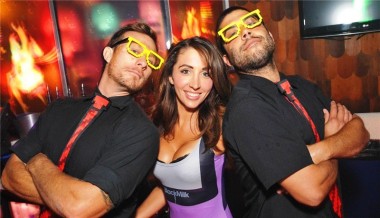 HCwDB's own Hall of Mock enshrinee Jacques Doucheteau unleashes some cold, hard truth in Saturday's Walnuts After Dark thread. Well worth a read:
———–
I saw my first boobies whilst getting baptized.
So I was raised as a born again Christian, or that is to say, my parents were ex-hippies that were burned by the whole hedonism of the late '60s and fallout in the early '70s and thusly converted, so I was by extension born again. Raised in a community non-denominational Evangelical church in rural Idaho, I learned very early of the dangers facing me if I dared puff a cigarette, taste a drop of liquor, or partook in any carnal pleasures including – but certainly not limited to – eying a woman with sinful intent and shamelessly torquing it.
So I happily gave myself over to the lord, and agreed to have myself baptized in Jesus' name when I was a mere 10-years-old. Never mind that part of my intent was to quit being shut out of the whole communion gig. I mean, they set kids up for getting voluntarily baptized through bribery. You sit there through service on a wood plank (pew) through hours of monotone hell and damnation talk, getting slapped on the back of the head every time you try to amuse yourself by sketching in the hymnals and changing all the lyrics to "on top of spaghetti". But then half way through you're tempted with a reprieve, snack time! Grape juice and little crackers. But no, you can't have any because "you haven't given your life over and accepted Jesus Christ as your personal Lord and Savior." Well sign me the heck up!
And so I confessed all my sins, said the Lord's prayer in front of the minister, read chapter blah blah by the apostle blah-dee-f@#k and gave my blah blah blah BLAH! Let's get this baptizing shit ON.
And so I was to be baptized at the end of Sunday service, and my whole family was to be there to witness my rebirth. The whole thing involved going into a private room behind the baptismal, changing into some white robes, and having the minister dunk you in a big bath tub while spouting some deep sounding religious shit. They insist that you strip naked before donning the baptismal robe, and for some reason a senior church member had to be in the room with you while you changed. This struck me as weird at the time, but in retrospect was particularly creepy.
Anyway, I changed into my holy white robe and waited in the room behind the baptismal for my time. For you see, I was not the only young person being baptized that day. Just before my rebirth, a young woman in the youth group named Amber was getting baptized. She was 14 or so, and developing nicely, though previously I hadn't cared to take notice of such things, being both prepubescent and wanting to keep good standing with Jesus and all.
So I was led to the baptismal just as she was exiting, after being submerged in the holy waters by the minister and accepting the Lord Jesus Christ as her personal Savior….
In that holy water.
That cold holy water.
Very cold…holy water.
In her holy white robes.
With nothing underneath.
Sheer white…holy robes.
In that coooooooold, cold water.
I passed very near to her as she was exiting the pool, the thin white robes, dripping with cold holy water, clung to her young taut body. I got an eyeful of dark round areola perched on top of her small perky boobs. Flat white tummy, and a small dark triangle at the apex of her glistening thighs. She moved in slow motion, the water sheen on the sheer fabric and exposed naked legs, accentuated her goose bumps and smooth, hairless, barely-pubescent skin. Long blonde hair plastered against her head, my eyes met hers, with matted eyelashes and mouth slightly agape, gently inhaling extra air from the cold immersion under water.
Who knows what she was thinking – probably something about how spiritual experience it was and how happy she was I was going to experience the same wonderful rebirth and salvation – but I know what I was thinking, and it was something new. Something I have never thought before, but something I have thought of many times since. Something I have gotten very, very GOOD at thinking about…in multiple scenarios, and with multiple women.
Long story short, I was baptized with my very first legitimate boner. You know how when as a young boy you may have experienced many little hard-ons, but they're never real. They just happen every so often while taking a bath after taking that "extra time" to soap up certain hard to reach areas. A mere curiosity more than an imperative. Basically, I barely heard a word that preacher said, other than to say "yes" when he asked me if I renounced my previous sinful life and accepted Jesus as blah blah blah. I said "yes". But I was saying "yes" to Amber…for she was in my head, just as she was in real life but a few seconds before. But this time, asking me if I wanted her to remove her sopping wet baptismal robe in front of me.
Yes, I do. Lord be praised, yes!
————–