Monday, August 19, 2013
Welcome To Sock Week on HCwDB. Son.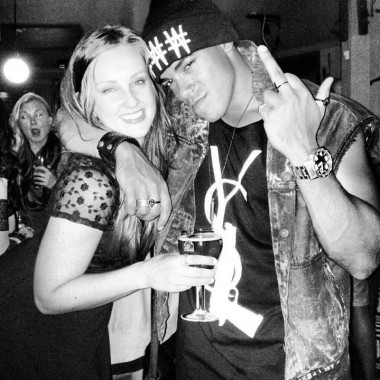 To Hell with Shark Week. It's Sock Week.
I understand that The Boss has a new child. I'm not going to incriminate myself by asking where he got it from. But I'm recovered from my surgery, I'm back in the saddle, I am back at work providing precision architectural services and I even feel good enough for a little horse play with my friends Stoya and Sarah Jessica Parker.
Now, this week will be one of purity, with no gratuitous distractions.
So we begin with a classic coupling of appalling douchosity paired with lip-biting hotness as we rage "Damn, Girl; what you thinkin"?!? As B&W Douche here manages to lift his chicken wing to display the stink finger to us all, despite the 20 pound watch, I think the Secretly Stern MILF's expression in the background says it all for us.
Comment, as ever, in the, ummm, comments section.