Friday, August 2, 2013
Friday Thoughts and Links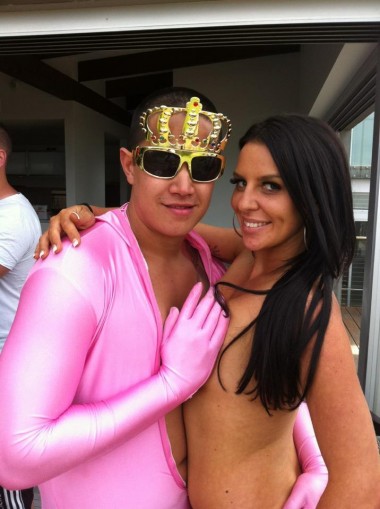 As Nostradouchemas foretold…
When the Pink Satin Kingdouche fondles Kelly, then the world will openeth and farteth lo the smelliest of farteths.
Hey, don't argue with me. It's Nostradouchemas.
As your humb narrs and HC1 are preparing to welcome in BC1 (Babychick1) any day now, things have been a little crazy in the DB1 household.
Apparently, sitting around, scratching your ass, eating HoHos and watching DVDs of Tom Baker era Doctor Who when a baby is about to arrive is frowned upon in this establishment.
As is proposing "free poop zones" in the den.
So not a ton of links today. But I do what I can do.
Here's your links:
Your HCwDB Buy Some Shit and Support the Site Link: Still the greatest videogame of all time.
Millennials hate to drive Ruining their body and soul with bad piercings, tatts, and anti-intellectualism remain no problem.
Penelope Cruz has a new ad that makes me feel funny in the special place.
New evidence has arisen that site favorite Champagne Katie is actually… Sheertina. Because I have the facial recognition skills of an arthritic ferret.
If you like your doucheposes without hotts, and you probably don't, here's last week's Mr. Champ flexin.
And the 89th most beautiful woman in the world is… April Rose. And Adonai said, 'let there be fap! And there was fap."
Okay, ready for some pear? First up
Just to see how your vision is. Is it good? Okay. Then you're ready for
Like a large and succulent melonpocalpyse.