Saturday, August 24, 2013
Wallnuts After Dark: What's Wit This Friggin' Canada Football League, Eh?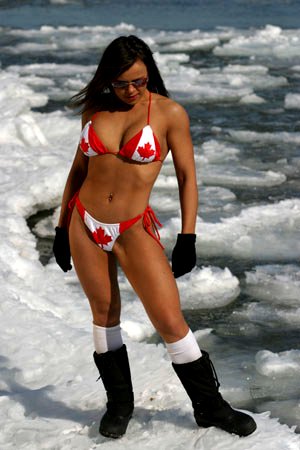 So the other night I'm switchin' through the channels, as is my wont, and I come across this Canada Football, and at first I was happy to watch the football, but then I thought I was havin' a stroke wit all a the guys on offense runnin' towards the line a scrimmage before the ball's snapped an wearin' these crazy uniforms. My wont, I says.
Then I noticed they's playin on a bigger field wit more guys on a side an wit an end zone that's bigger than my Aunt Tessie's googutz. Googutz, I says. I mean is this football? Why did them Canadians have to go an ruin America's best thing asides from Frank and Jack Daniels?
At first it kinda looks like the football but then the more you look at it the worser it looks. Kinda like when you see a pretty dame an then when you get real close an start talkin to her you realize she's a re-tard or some other kinda wacko, or has a booger hangin' from her schnozzola or some kind a schmutz stuck in her teeth.
There ain't nothin' worse than somethin' you thought was Jake, becomin' a bad scene.
Another thing, I didn't realize they's has so many black guys in Canada. Madon, who knew? Then I got to wonderin', you know, how blacks was called, "colored" and "Negro," before settlin' on African American. So do they call Canadian blacks  "African-Canadian?" Am I wrong when I ask that?
Hey, I ain't got no beef wit no one and don't care what they wanna call themselves, I just don't wanna go to Canada and say the wrong thing to the wrong guy an get into some kinda beef, if you catch my drift.
So if this guy I know from the neighborhood, Elbow Grease Vito, showed up wearin' one a them Deadlock wigs wit the light color ends, would he'd look better than he does wit his current Dome Piece that looks like a veal cutlet? Just wonderin'.
This Canada football reminds me a the time Meyer T. Fleishman (he used to say the "T" was silent. Fuccen funny guy.) got me involved in the music business. When he told me he was gonna put me wit a band, I was figurin' I was gonna wind up wit somethin' like Frankie Valli and the Four Seasons. But instead I wound up with this group a dirty British Pischocs that was called "Fudge Tunnel," an had a record album called "Hate Songs in D Minor," or some fuccen thing.
I come to find that this group played something called Sludge Rock that sounded like the noises I'd hear when Butchie "The Butcher" Rizzo used to settle up wit deadbeat skells who had skipped out on debts owed to the Scarfo boys down there in Philly. An another thing, when I got back from seeing the Fudge Tunnel play a gig out in L.A. where one a them pissed on stage durin' the show wit Mrs Wallnuts sittin' right there at Ringside, front and center, I had Skinny D'Amato pay old Meyer a visit that he ain't never recovered from. An he never was heard from again, by the way. Except from his proctologist, I'mst bettin'.
So anyways, for as much as I love the Pigskin, I'll be leavin' that Canada Football League watchin' to others. It's like that Canada Bacon, it ain't no bacon, it's friggin' Taylor Ham!