Saturday, August 31, 2013
Wallnuts After Dark: What's With the Miles Cyrus in the Rubber Underwears?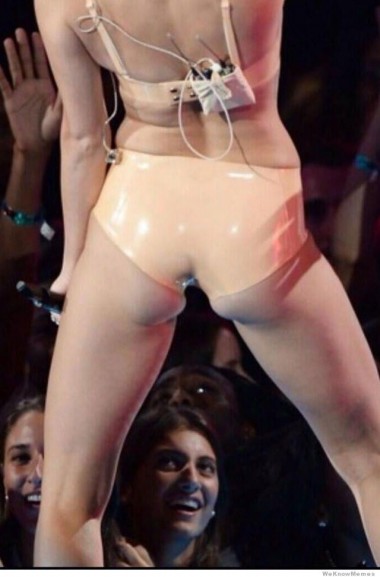 So I hear this Miles Cyrus dame created quite a big stir the other night on one a them awards shows on one a them channels that the kids watch that shows all a them musical videos. I saw some a the pictures and a bit of the act and I gotta admit it, I don't get what the heck is goin' on there.
I'm still a hip cat for a guy who's seen a lot and been around the block a couple a times, an so I have no fears that any a youse might think I'm a square for sayin' so.
Once ole' Billy Wilder tole Miss Monroe that she couldn't always walk around wit her nubs hangin' out if she wanted people to treat her right. She kinda listened, but still loved it when she caught guys starin' at her knockers.
But she was Marilyn Monroe and could get a way wit it even thought things wound up bad for her. This Milo stasch ain't talented or good lookin' enough to prance around in underpants that my Aunt Jo woulda worn after she lost the ability to toilet herself. Toilet herself, I says.
An one more thing. That Mama Luke who stood up there and let Miles rub up against him and his bird should get slapped for lettin' her get away wit that. I forget that Scarole's name, I think it was some kind a dame's name, but whatever his name really is, he should be called Twat for bein' a part a that.
One time Edie Gorme – God rest her soul – made some kind a off-color remark to Frank during a show at the Copa an he wouldn't look at her for the rest a the night, an the next day she was gone. She wound up playin' gigs in Scranton, Pittsburgh, Buffalo and a bunch a other toilets for two years.
So anyways, these gals better straighten up and fly right or else they'll be playin' gigs in places where they put ice in the urinals, you can't get a decent slice a pizza (pronounced "Beet-za" or "A-beetz") and the champagne they got is flatter than them plains a Nebraska. Or that hooker's schwanz after the nosejob Frank made her get to look more like Ava. Schwanz, I says.