Friday, September 27, 2013
Friday Haiku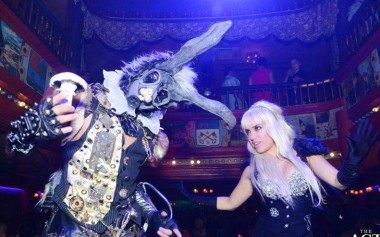 Her Sweet Emulsion;
Back-door boogie, wang on fire…
The Rabbit done died
Post-Apocalypse
'Fright Rabbit' wants to put his
Phallus in Alice
— saulgoode42
Oktoberfest not
fun when g scope inserted
in furry rabbit.
— Dickie Fingers
This here has to be
What Porch Beef is made out of
Well, rancid Porch Beef.
— Franklyn DealorNo Doucheifelt
His Rabbitosis
Can't match her Halitosis
Or Twatitosis
— DoucheyWallnuts
Watership Down was
never the same after Rev
Chad's gardening trip.
— Dr. Bunsen HoneyDouche
Who Framed the Rabbit?
Alice in Blunderland is
The prime candidate.
— The Dude
PCP laced Trix
cereal. A good part of
a complete breakfast
— Magnum Douche P. I.
In the race of life
rhinestone sternum turtles beat
rabbit for the win
— Charles Douchewin
Down the rabbit hole
takes on new meaning with them
German porn is weird
— Magnum Douche P. I.
Now following the
Rabbit down the hole really
Means sloppy seconds
— Jacques Doucheteau
It puts the chick in
The basket or it gets the
Hose. The Hassen hose.
— The Reverend Chad Kroeger