Friday, September 27, 2013
Friday Thoughts and Links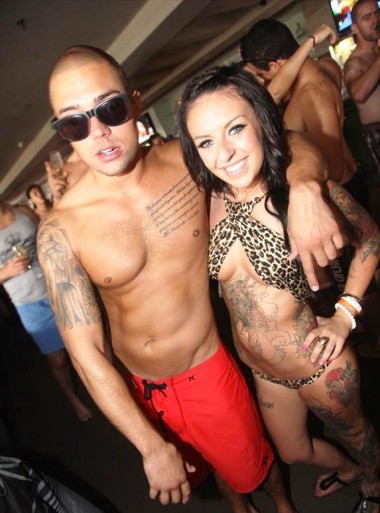 It takes a bold couple to scribble text on their bodies, grease up, then display that inked body as some form of phallus/vag genital prize on the carnal catwalk of summer beach culture.
And by bold, I mean silly.
Your humb narrs is sipping a coffee and reflecting on life.
Perhaps the days of blog-based entertainment no longer make sense in a world of custom feeds and hive-mind comedy sites like Reddit.
But fuggit. I got nothing else to do.
Have some links:
Your Amazon Buy Some Shit and Support the Site Link of the Day: My seven-week-old baby, BC1, did not appreciate her latest crib partner.
Confused on how to tag a douchebag in the wild? Consult this handy graph.
Meanwhile in fake PC sporting leagues, the WNBA simply does not respect its target audience.
Douche Product Alert: Genital Dye. For when you need to wash the gray away. On your genital. Singular.
Because sometimes old people just wanna be noticed.
Dat ass. Don't ask me, I just work here.
From father to son: Generation 'Bag.
Okay, nuff on this nonsense. Heres ya go:
Not enough? Okay, one more:
You're welcome.