Wednesday, September 18, 2013
The Problem with Tattoos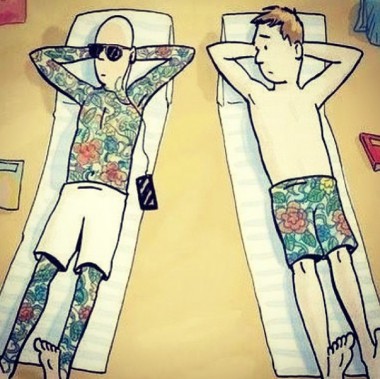 Let this excellent cartoon, so simple in its visual allegory, remind us of why we fight.
Let it speak to a world where flowery peacocking has been transcribed from cloth to skin in an ever increasing exponential circus.
When the mating game's intensifying competition among the tribe for the attention of the boobie hottie suckle thigh pits man versus iPod in a competition of digital dazzle.
Tattoos are not the problem.
They are but a symptom of a larger rot.
They remind us of how our desires, our self image, our hopes, our dreams, are each carefully molded by an intense landscape of stimulants. Carrots. Sticks. Reward. Punishment.
Do what they say and all will be well.
Fail to conform and be cast from the herd forever.