Friday, October 4, 2013
Friday Haiku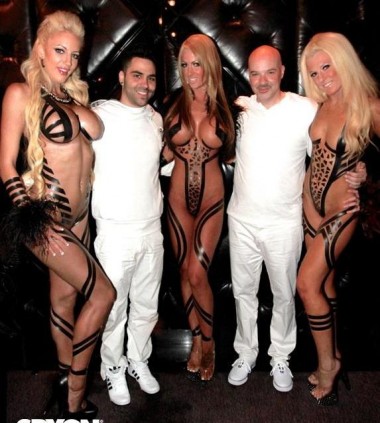 Larry and Gary
Made sex tapes with their girlfriends.
Y'all did it all wrong…
I wish government
Shutdown closed places like this
And killed these people
— DoucheyWallnuts
Penis magic show
Goes horribly wrong when they
Reveal what is taped
— Capt. James T. Douche
Before sending prey to
Carousel. The girls tease the reds
With booby action.
— The Reverend Chad Kroeger
I'll bet 10 bucks these
douches are clueless about
Wendy O. Williams.
— Dr. Bunsen HoneyDouche
Milkman convention's
most popular seminar.
Handling milk jugs.
— Magnum Douche P. I.
This Douche/Bleeth round up
Drunken Vegas Rorschach test
I see seven boobs
— Vin Douchal
I see two fake boobs.
Aside from that, those girls have
Silicone titties.
— Jacques Doucheteau
Meat curtains get stretched
When tape clothing is removed
Enough to make tent
— DoucheyWallnuts
The tape gets removed
And silicone funbags fall.
Put the tape back on!
— The Dude