Friday, October 11, 2013
Friday Thoughts and Links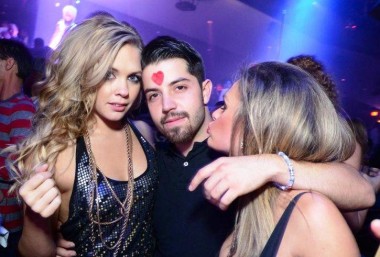 The Mark of the 'Bag marks douche for all those who doubt douchitude.
The Mark of the 'Bag comes in many shapes and forms.
But whether grease stain or silly heart, the Mark of the 'Bag does not lie.
Perfection Sarah plays lutes of suckle poke undies gargle. Like a deep fried plantain or a cronut dipped in Bosco, hers are the lickable pooch fondle of harmonic bobble. Do not doubt the disease curing power of her taut milk thighs or sweet supple steroid-free farm raised thighs and wings. For they do not age and do not wither. Not without God hanging his head in shame.
Here's your links:
Your HCwDB Buy Some Shit to Support The Site Link of the Week: Judge my fetishes not lest ye be judged.
HCwDB's own Mr. Biggs has finally realized his longtime graphic novel project and it is amazing. Check it out and show your support: Inferno Los Angeles
Even when Benzino hangs with a bro, the whole thing is kinda creepy.
What the world needs now: More female streakers
Funny or Die's Between Two Ferns interviews porn star Justine Bieber.
And then there's dinosaur erotica. Of course there is.
British newspaper analyzes San Francisco techie herpsters, comes up with the word 'douchebag.' Meh, close enough.
Priests hanging out with 15 year old kids not wearing pants? I'm sure there's a reasonable explanation.
Meanwhile, in terrorism news, The Unipooper strikes again!
Okay, here's ya go:
Not enough? Okiedokie:
Like buttpear for photoshop.