Tuesday, November 5, 2013
Breaking: Drunk Frenchbags Steal and Molest a Llama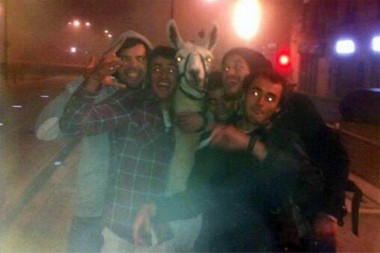 The latest from France:
————–
A pack of blitzed French school chums snatched Serge the llama from a circus and led the surprisingly agreeable beast on a late-night journey aboard the city of Bordeaux's tram system.
The llama-nappers posted pictures of themselves with Serge on Twitter, leading to their arrests on misdemeanor theft charges. They'll likely get a wrist-slapping fine.
"I had two or three glasses too much. Let's say I was happy," one of the animal liberators, Mathieu, 20, told the Sud-Ouest newspaper.
The lifelong pals broke into the Franco-Italian Circus looking to grab a zebra, but that animal wasn't cooperative.
Serge, however, was more than game for some wild-and-woolly, late-night action.
"We were afraid that [Serge] would be rough, but he was very gentle," Mathieu said. "We petted him and he followed us onto the street."
The blotto buddies baptized Serge with booze and renamed him "Kuzco," after the Inca ruler in Disney's cartoon "The Emperor's New Groove."
"[Serge] was happy and proud [to be temporarily free]," Mathieu said.
———–
You almost earned some nottabags, Frenchbags, but then you had to go all "Emperor's New Groove." The only proper name for a sex llama is Falkor.