Friday, November 8, 2013
Friday Haiku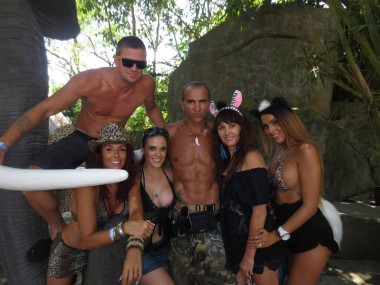 Posing with trophies
Of foxes and cougars, it's
The Great White Humpers
Don't click to enlarge
Ren-and-Stimpy-like details
are horrifying
— Charles Douchewin
In the jungle, the
Mighty jungle, the lion
wants to run away
— The Dude
Ivory renoB
Photo Bombs team photo of
Douche/Bleeth convention
— DoucheyWallnuts
Ivory's been scarce
since the gyroscope was put
in her cheetah hole.
— Douche Wayne
Large areola
Is the size of a pizza
And it oozes cheese
— DoucheyWallnuts
She hides under rocks
Since the gyroscope was put
In her Monkey Hole.
— The Reverend Chad Kroeger
It's a little known fact
that elephants stampede when
they smell ignorance.
— Dr. Bunsen HoneyDouche
Group later eaten
by cannibals. Tasted like
Axe and Vagisil
— Magnum Douche P.I.
Boner photobomb
leaves Geno pissed, hotts wet, Drew
sexily confused
— Morbo