Friday, November 15, 2013
Friday Haiku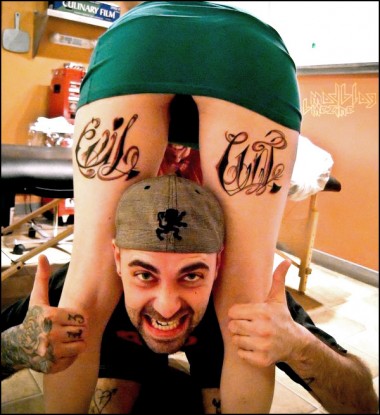 "That was TERRIBLE!
What do you call your stage act?!?"
"THE ARISTOCRATS!!!"
What Prompted her Tat?
Herpes Test is positive
Hence her evil clit
— THEONETRUEDOUCHE
Fruit salad reveal
And back of the thighs tattoos
Can't distract from Douche
— Doucheywallnuts
I bet evil clit
means she's packing a sausage
tuck in that short skirt
— Magnum Douche P. I.
Her Finishing Move
Backwards Headshot Clit Hammer
Flawless Victory
— Douche Wayne
Trish saw no problem
with adding more infections
in between her legs.
— Douche Wayne
Christmas is coming
Stan and Jill practice their new
Ballet, 'Slutcracker'
— saulgoode42
Trish's new tatt will
be all the talk around the
trailer park this week
— Magnum Douche P. I.
Writing with faeces is
A misunderstood artform
Except for monkeys.
— The Reverend Chad Kroeger
Stinky Thumbs McGhee
And Evil Clit agree that
Meth's helluva drug!
— Capt. James T. Douche
Clit has been Evil
since the gyroscope was put
in her monkey hole.
— Douche Wayne
I would hate to hear
What she calls her butthole if
Her clit is evil.
— Capt. James T. Douche
Colonel Wallnuts sprays
graffiti to wage peace/war.
Tats, self-inflicted.
— Charles Douchewin
********************