Wednesday, November 6, 2013
Reader Mail: Douchebags and The Gays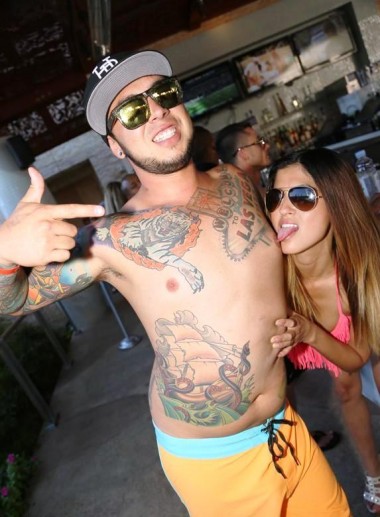 Reader Brian posted the following in last week's Happy Halloween comments thread:
———-
I know you do not seem like a huge fan of the gay community (maybe I am wrong? I have been once or twice in my life! Lol) but as a gay man I look forward to seeing pics of hot, juiced up douchebags and check this site every day. Not seeing them as much as I used to?!
I happen to think the dude in the middle is smoking hot and I know you published one of him before with a 'hot chick' and he had these crazy eyes in the photo-similar to his look in this one; it was a turn on actually!!
I am sure you have TONS of gay fans. BTW, I think you have mentioned being from Brookline or at least Boston. I live in Allston. Love your site but more roided douchebags please; makes my day. Peace.
———
We here at HCwDB welcome readers from all persuasions, and I have nothing against gay people, except when they describe douchebags as "hot." Then you've crossed a line, my gay friend. Not cool.
You see, Brian practices what theorist Stuart Hall defines as an oppositional reading strategy. He takes a given text (HCwDB) and actively re-purposes its meaning in a way different than that intended by the author.
Brian's reframing of douche mocking into gay lust actually serves as an important lesson in how concepts such as Antonin Scalia's constitutional originalism, the belief that a given text has one and only one meaning that can somehow be deciphered like a Secret Society Decoder Ring is so ludicrous.
Each of us bring our subjectivities and active agency into the process of interpretation in any given text. Communication is generated as much by the spectator as by the author.
It is a proverbial two-way-street of meaning. A repeating cycle rather than a linear path.
When Brian perceives the douchebag as "hot," it reflects how we all interpret texts in ways that differ from authorial intent. Just as Scalia perceives the Constitution. We all bring subjective agency to bear on the text. Only a fool pretends that this variable process doesn't exist.
So welcome, Brian. And blow an aardvark, Scalia, you fraud.