Friday, November 29, 2013
Thanksgiving Thoughts and Links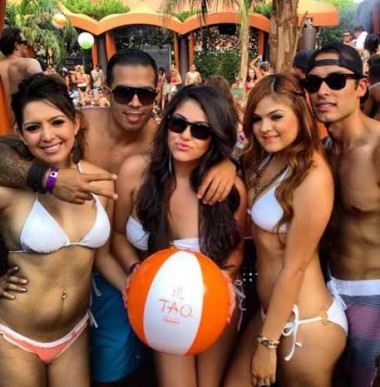 EDIT: The last pic may have actually featured a special needs guy, and I don't mock them, so I've swapped it out with this collection of classic Vegasian hottie/douchery.
Here's the rest of the original post:
Kinda a quiet post-turkal Thanksgivukkah here in the DB1's household. Too quiet.
All the chocolate coins were eaten by mid November. So that's out.
But I did just learn how to stream video through this magic device called a Roku. You know what that means. Every episode of Black Adder, Red Dwarf, and Fawlty Towers will now commence to be viewed.
Because I plan on a productive weekend.
Here's yer links:
Your HCwDB Buy Your Christmas/Hannukah Gifts on Amazon After Clicking This Link to Help Support The Site Link of the Week: The first step in telling Time Warner or DirectTV to kiss your black ass goodbye
Do not get drunk in India. No, seriously. Don't.
Some days I really, really wish I worked for the TSA.
1970s vintage beach shots. Like looking into an alien world at once both similar and dissimilar to our own. Uncanny valley in effect.
My next book: The Douchebag with the Miley Cyrus Tattoo.
Douchey Asian tatts translated (for reals, yo).
Fake tanning douchebleethery: 2.0.
Remember those New Wave/Punk musicians and singers from the 1980s? Lookin' good.
And yet more dancin' in the aisles.
Okay, nuff of that silliness. Have some:
Sure it's digitally altered fantasy. But so's your moms.