Tuesday, December 31, 2013
Douchiest Celebrity Couple of the Year: Ryan Lochte and Carmen Electra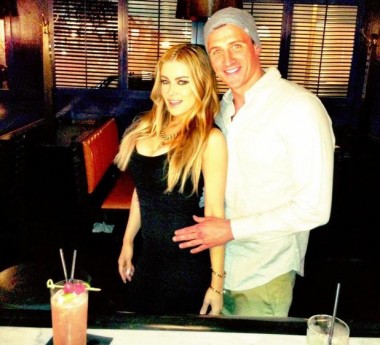 Sadly, because your humble narrator is a lazy-ass slacker, we didn't get to do the Douchie Awards this year.
But yeoman Vin Diesel refused to go gently into that good night, and submits the following:
———-
Celebrity Douchebag Couple 2013
A slow year for celebrity hookups. Of course Bag Virus Patient Zero, Hall of Fame All Star Richard Grieco made a splash with incredible poo-like art, but alas, no Bleeth on his arm. Mylie, Taylor , Katy, Kim all made splashes with their incredible lack of taste in Alphas.
On the sports side, asshat and NHL pest Dion Phaneuf hooked up with a chick that every dick (Yes I'm looking at you Sean Avery) cheap shotting , tough guy wannabe pro hockey player has seemed to have bedded: the once spectacular, but hopelessly Bleethed out Elisha Cuthbert.
Cable reality shows poured out the nimrod parade in a never ending battle to disgust us and TMZ continued to be the most annoying claptrap our sweet flat screens display in digital full color 7.1 Dolby surround sound. However, I await the breaking of the story of the inevitable and comforting news of Justin Bieber's Malibu cliffside fatal car crash like a dog hearing the can opener, head tilt and all.
But I digress.
Some examples for our Douchiest Couples list were Chad and Avril, Porn twits James Deen and Stoya, Tom Cruise and delicious Ginger Laura Prepon (NSFW boobies), Matt Kemp and Khloé Kardashian and Chad Michael Murray and Nicky Whelan (he of the short lived marriage to delicious dream girl Sophia Bush and Nicky from one of the greatest peek-a-boo wet shots ever)
Let's open the envelope.
Let's face facts folks, no one is a bigger moron and douchebag than Ryan Lochte. His reality TV showed featured the most vacuous, idiotic brainwork of perhaps the most clueless human alive. Imagine my delight when word of his hookup with fellow Mensa, Carmen Electra was sporned.
Ryan is all that's wrong with celebrity in these modern times. Carmen is a toxic throwback to the days of silicon jigglies equating to interesting matters of dire concern , the wastoid '90's. Here's a toast to this year's winner/losers : Ryan, may you rip an ab muscle flexing in a mirror and Carmen, someday, maybe after shower #1,000,000 , you may finally rid yourself of the stench of Dennis Rodman's groin cheese. CHEERS!
———
Oh, and Happy New Year!!