Friday, December 13, 2013
Friday Haiku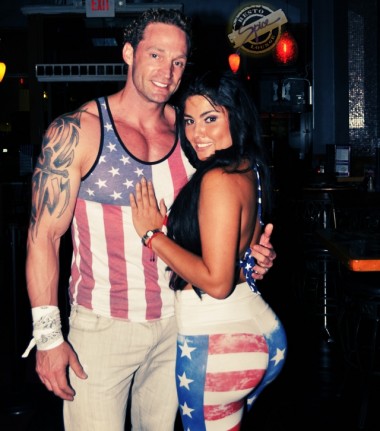 See? Horizontal
Stripes do make things look fatter…
…and oh so Juicy…
**********
'Murican Heroes:
General Pattin' Dat Ass
And Private Lapdance
– saulgoode42
Francis Scott Key
Inspired to write by this
Star spangled bumper
– Charles Nelson Douchely
The star-spangled butt
inspires hoisting on poles
Francis Scott Key cheers!
– Charles Douchewin
Flag desecration
Has never given me a
renoB, until now
– DoucheyWallnuts
It puts ass in the
Basket or it gets the hose
The big booty hose.
– The Reverend Chad Kroeger
I'd say the pledge of
allegiance to that booty
every morning
– Magnum Douche P.I.
That's some hot flag meat
Spectacular example
Old glory is proud
– The Dude
Stretched out far and wide
See stars and stripes forever
Ha! other countries
– Vin Douchal
I'd like to run her
up my flagpole; I'm already
saluting DAT ASS.
– Wheezer
Choad Glory Lib'rates
This Broad's stripes and bright Spandex
Our Forefathers weep
– Bag Em Tag Em
Mesmerized by ass
We forget he suffers from
Throat gonorrhea
– DoucheyWallnuts
The douchebag's red glare
And her ass bursting bad air
like poop through the night
—-
O' say can't you see
Through the dimly lit night, why
the 'bag is still there?
– hermit