Friday, December 20, 2013
Friday Thoughts and Links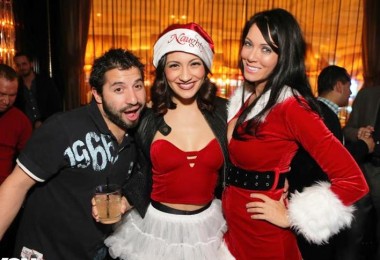 When I witness the joyous celebration of hottie/douchey cohabit when the club kids dress up as Santabags and Santahotts, it almost make me want to be Christian.
Almost.
Then I remember this. And it's a little more difficult.
But a happy happy and a merry merry to all those who celebrate Christmas as we get closer to the glorious day that celebrates the birth of Black Jesus.
Man.
I can't really think of anything else to contribute after my Al Goldstein post. Except maybe this.
Here's yer links:
Your HCwDB Buy Some Shit After Clicking This Link on Amazon Link of the Week: "Blessed are those with the groove, for they shall inherit the funk!"
NOTE: For those who want to support HCwDB in 2014, you do not need to buy the item I link to. Just click through my link, then do some shopping. Anything you buy will send a bit o' cash my way to help keep the lights on around here.
The 20 Worst Herpster Bands of All Time. Hey! Ho! (mandolin solo)
I'm not sure who Johnny Manziel is, but a few people have sent him in as an example of a fratbag/jockbag. Not sure I see it, but his girlfriend is quite buttery.
Justin Bieber something.
News anchor hates reporter. Reporter hates news anchor. Heh.
I can't believe I missed this. The great Spike Jonze's 2010 30 minute short film "I'm Here" is pure genius.
Malcolm McDowell pens a glorious tribute to Peter O'Toole.
I'm not much of a fan of the grunge era, but this letter from producer Steve Albini to Nirvana before the recording of In Utero could serve as life advice for all of us.
Continuing controversy over Brazil's Ms. Bum Bum winner.
Here's some creepy portraits of strangers that happen to look identical. But why no pairing of Fish Slap and Mac?
Okay. Nuff o that.
R. Crumb just gave up cartooning forever.