Wednesday, December 18, 2013
James Franco Plays a Douchebag in a Movie, Lobbies for an Academy Award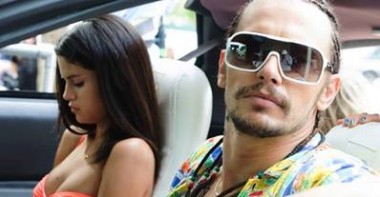 The circle of self-reflexive performance art douchebaggery is almost complete.
Hollywood lightweight James Franco is doing his best to lobby for an Academy Award nomination for playing longtime HCwDB nemesis Riff Raff in a movie directed by that kid who wrote Kids.
A movie so beholden to douche mock, it even featured cameos by the douche twins from Atlanta whose name on the site I have blocked from my conscience.
I ranted on this once already, so I will spare you my anti-bromides a second time.
Howver, ironic douchebaggery as performance based on ironic douchebaggery as lifestyle continues to perform the paradoxical stais of life in our funhouse hall of mirrors post-spectacle intertextual media landscape.
Or, to put it even more succinctly, Menomena.