Thursday, December 19, 2013
Mr. Biggs Mourns the Death of His Namesake, Ronnie Biggs (RIP)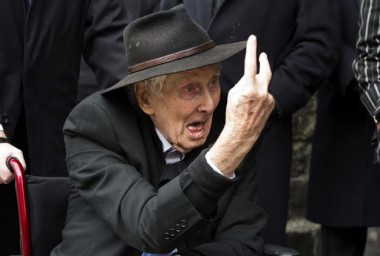 Long time 'bag hunter Mr. Biggs, stalker of the Stokke, writes in with a eulogy for the actual Mr. Biggs, longtime fugitive from the great train robbery, Ronnie Biggs.
————–
Ronnie Biggs was best known for his infamous British train heist in 1963, where he and his gang made off with about $50 million in today's currency.
He was caught but managed to escape prison, living out his days as a Brazilian playboy. He was featured in the Sex Pistols' quasi-documentary "The Great Rock and Roll Swindle". The Sex Pistols compared their band to a Rock and Roll Heist where, they too, made off with millions.
Thus, my namesake, (Ronny)Biggs, is an obscure reference dating back to my 90s So-Cal punk days.
The Guardian has a pretty good obit here.
And I expect all of you to be familiar with The Great Rock and Roll Swindle. Especially if you're at all into music or pop culture. Truly a work of genius.
Ronnie Biggs, you will be missed. I doff my fedora to you, with outstretched index and middle fingers.
———–