Wednesday, December 4, 2013
Reader Mail: Jacques Doucheteau Hands out the First 2013 Douchie Award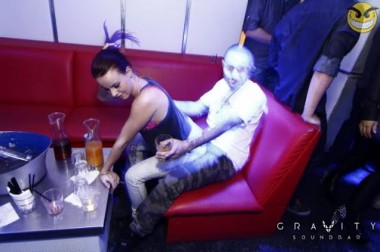 Master thespian Jacques Doucheteau sums up HCwDB's current state in Monday's Hanz and Brigitte comments thread:
————–
In fact, let's just get the 2013 Douchies out of the way right now since I know it's not going to happen this year (Lesson for all you single guys out there, this is what having kids will do to you. Shattered dreams and ruined aspirations clouded by the instinctual urge to devote your entire existence caring for a diseased little human grub that pukes on you, doesn't know how to sh!t in a toilet, and once it learns how to do so will tell you to go f@#k yourself and leave home, only to return with a little sh!t grub of its own that you'll be taking care of half the time because "I gotta go to work and Rob's being a dick and f@#king some skank so I'm not letting him have the little brat this week", and will still stick your aging ass in some sh!t-cheap old-folks home because they don't feel like wiping your ass once you can't control your bowels anymore, so you're left to die in a puddle of your own piss and septic bed sores while they argue with their siblings about who gets your TV).
Uuuhhhh… where was I? Oh yeah. I know officially kick off HotChicksWithDouchebags.com 2013 Douchies!!!! (applause)
Every Category: Hanz, aka The Prince of Pompoos
There you go. See you all again next year for the 2014 Douchies, which will consist of no entries, no finalists, and definitely no amusing quips in the comments section. Just a couple of us old diehards refusing to let the poor old site die an honorable death as we hark back to the "good old days" of 2008-2010, when the Samurai Scrote thread topped 10,000… when Sergeant Scrote Stain would grace us with his witty observations and one liners… when Dicy showed us a picture of her cotton panty clad ass… when Medusa DIDN'T show us a picture of her ass… and when the peeing in horses jokes were still funny.
I'm going to bed, f@#k you all.
———-
All accurate. And scathing in all the proper ways. Good work J.D.
HCwDB may not be the arbiter of cultural influence that it once was. But we carry on my wayward sons (and daughters).
And on the bright side, there's this. The war continues. I may not do the Douchie Awards this year because I'm a lazy slacker. But the mock will continue. Oh yes.