Monday, December 30, 2013
The Dead Zone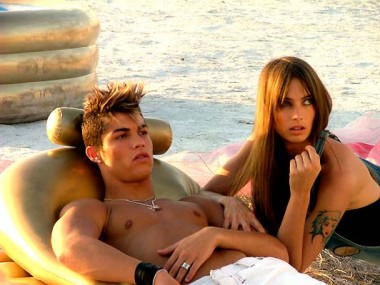 So what to do when Hollywood Bieberbag meatwads and Monica Models float by on the Sunset Blvd. pools of our imagination?
Kick a puppy in the nads, I says.
Another year has passed for your humble narrator in the City of Angels. Another year away from New York.
Some projects happen. Other's don't.
The sun will rise. The sun will set. Lou Gorman will have lunch.
It's that creepy quiet time in Los Angeles between Christmas and New Years. The weather is the same. The churning 20-somethings with a web series and a dream are the same.
But everything gets more quiet.
Turned down.
The desperation and flop sweat of a city built on selling fraudulent dreams and overpriced yoga mats dims.
Just for a moment.
Before Ryan Seacrest and a lot of noise and then the whole churn and burn begins again.
Perhaps Nathanael West said it best in his 1939 classic novella of Hollywood angst, The Day of the Locust:
Their boredom becomes more and more terrible. They realize that they've been tricked and burn with resentment. Every day of their lives they read the newspapers and went to the movies. Both fed them on lynchings, murder, sex crimes, explosions, wrecks, love nests, fires, miracles, revolutions, war. This daily diet made sophisticates of them. The sun is a joke. Oranges can't titillate their jaded palates. Nothing can ever be violent enough to make taut their slack minds and bodies. They have been cheated and betrayed. They have slaved and saved for nothing.
But hey, it beats living in snow country I says. I paid my dues.
Oranges.