Tuesday, January 14, 2014
Dave's Middle Earth 'bag Tag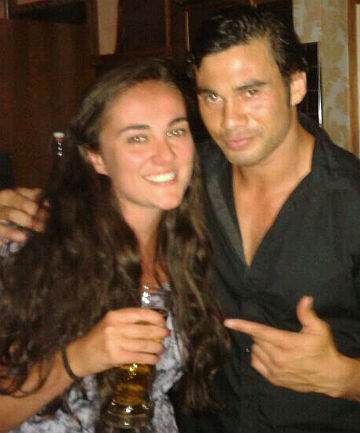 Dave writes in with yet another 'bag tag from the greater Australia/New Zealand area with the following celebutag:
———-
From: Dave
Subject: Down under douchebag
DB1,
What can you do about an obvious douchebag from the far-flung shores of New Zealand who meets every conceivable criterion for a mention on HCWDB? Give him a mention on HCWDB I say!
I give you musclehead meatball third-rate soap opera actor Ben Mitchell and his muscle car, suitably greased up and waxing lyrical about how cycling is for losers.
Enjoy!
– Dave
———-
Brett? Check.
Jermaine? Check.
Murray? Present.
Aussie and New Zealand 'bags always fascinate me. No matter how greasy and ridiculous they look in chasing the Hotts, they're always just so damn friendly.
Happy. Grinny.
Is any guy in Australia not the nicest guy in the world? Not glad to meet me? Not willing to buy me a beer and pat me on the back in a friendly but still masculine manner?
Except for this guy. Don't trust him. Nope. Not at all.
But we should take a moment to appreciate the slavic nordic perfection of Aussie uberhott and "Wolf of Wall Street" star, Margot Robbie.