Friday, January 17, 2014
Friday Thoughts and Links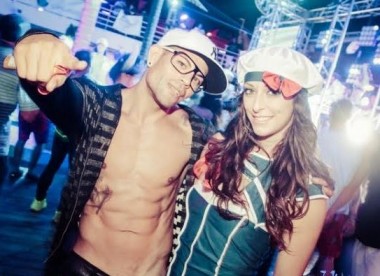 I don't know what's going on here and I don't want to know.
Sailor hotts cohabiting with rippled Pringlebags smell like feta cheese under a Tuscan sun.
Your humb narrs doesn't know much these days.
Diapers and working on a new book define my life.
What I do know is that I heard Gerry Rafferty's Baker Street on Sirius yesterday and it was glorious. The chorus is a freakin' sax riff fer crissakes. 70s music is before my time but the fact that this amazing song was even produced in a sea of bad disco inferno and skyrockets in flight makes it even more of a masterpiece.
On to the good stuff.
Here's yer links:
Your HCwDB Buy Some Shit on Amazon to Support the Site Link of the Week: "This city desert makes you feel so cold, It's got so many people, but it's got no soul, And it's taken you so long, To find out you were wrong, When you thought it held everything."
Remember Crimson Paul Bunyon? Turns out he's a something something Sons of Anarchy something something.
1990s Action Cinema summarized in two seconds.
Every single Hot Weather Girl compiled in a single website. Because internet.
Celebrities read mean tweets. Almost makes up for the inexplicable fact that Jimmy Kimmel is somehow incredibly famous and successful.
Middle Eastern terrorists are so stupid, they can't even spell Los Angeles correctly on their flight jackets.
Oklahoma man charged with using an atomic wedgie to kill his father. "Wedgie." The word still traumatizes me. Looking at you, assholes from Senior Bunk, Camp Kingswood, 1985.
Okay, lets get to the good stuff:
When the iPhone is upgraded with a fancy lens, then the Pear will come into autofocus.