Friday, January 24, 2014
Friday Thoughts and Links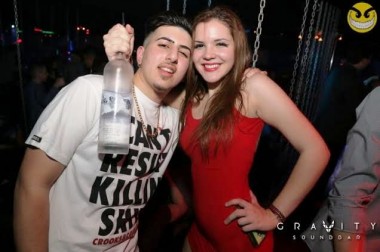 Ah yes.
To Run with the Goose.
When douchewanks purchase overpriced alcohol and hold it in a phallic way to court the laziest and most inebriated of the female herd.
It's like when bonobo chimps fling poo as part of ritual courting.
Economics can always be explained by the reproductive force. The more we desire to mate, the more rules can be put in place to extract cash through our efforts.
But that's neither here nor there.
What is both here and there is Evil Yellow Sunball. Evil Yellow Sunball sees all. EYS often discusses the decline of our mating habits with Ubiquitous Red Cup. They concur. We suck.
Here's yer links:
Your HCwDB buy some shit on Amazon to support the site link of the week: If you're ever upset about an ex-girlfriend, imagine them like this in forty years.
Guy Fieri, featured here on HCwDB as a douchebag of the month back in 2008, and again in 2009 and as recently as last year, continues to contribute to the scrotation of the planet.
The push-up muscle shirt. For douchebags who want to get there the lazy way. Oh wait, it's viral marketing. Damn you for stealing my shtick, Old Spice. Here's another example.
But the hillbillies still hate us.
Best thing I've read all month: Grantland's oral history of Swingers. Phenomenal.
Hungover? This doctor will flush you.
Be careful, part-time douchebags. The internets is watching.
The increasingly impressive Vice produces some genius local news headlines. It's like Jay Leno's headlines, only funny.
Okay, 'nuff of that, lets get to the tautness:
It's like doing a wash. Of your brain! Brainwash! Because you now lack the ability to think! Ha… heh.. heh.. okay, I go now.