Thursday, January 16, 2014
Reader Mail: The Tale of Milfy Bartender Woe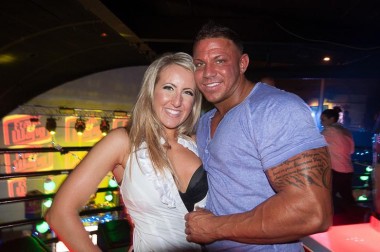 Reader Gamecockbag writes in with a tale of milfy bartender woe:
————-
This girl bartended at a bar me and my friends used to frequent.
She quit working there a while ago and we all kind of forgot about her.
She's now working at a bar around the corner from my house and has apparently gone from nice Southern girl to something resembling a character on the Jersey Shore.
She has also added a "gorilla" or "juice head" as they call them to go along with her new look. Damn shame.
————
But on the bright side, Gorillabag's bicep Sanskrit does contain the Zoroastrian prayer for how to bless one's knife before tanning a lambskin.
So if they're ever caught in a desert, and need a lambskin properly prepared, they'll know the blessing.
Just sayin'.
It's not a likely scenario.
But it is possible.