Friday, February 7, 2014
Friday Thoughts and Links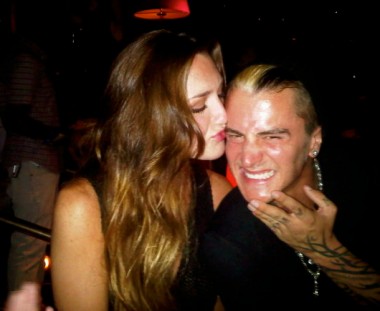 When Sharon Whose Hair Smells Like Premium Suave Conditioner with Coconut Scent cohabits with Oily Bohunk Dave, then you know life is a shriveled nad of nad prune.
Your humb narrs is heading to the big NYC next week. HC1 and BC1 in tow.
First time back since I gave up that sweet sweet East Village rent stabilized apartment a year and a half ago.
Oh how sad to be a tourist in the city of my youth.
Back when the internet boomed, the deficit balanced, new subway cars were introduced with robot voices, and many, many hot 20-something ladies watched too much Sex and the City, decided to drink cosmos and exhibit loose moral behavior.
Them's were the days.
Now I'll be changing diapeys and hope I can hit Joe's at least twice.
Here's yer links:
Your HCwDB Buy Some Shite after Clicking this Amazon Link And Help Support the Site Link of the Week: "Dope will get you through times of no money better than money will get you through times of no dope."
The Grieco virus during incubation.
Justin Bieber's father. What's the word I'm looking for? Oh yes. Spincterpeanutbutteraardvarklick.
My new favorite xBox 360 game: Call of Doodie.
My interest in the Winter Olympics is the equivalent of a scary balloon clown.
Have you ever seen this much muscle on a man?
Club institutes new rules for douchebaggery. I approve.
People in photos with dogs pooping.
For those humorless hipsters of the greater San Francisco area: The underground economics of Dolores Park.
The most terrible, misleading statement about pear of all time.
Here's your moment of zen: Twenty-four hour time lapse of lawn furniture in snow.
Okay. That's all I got. It's a little bit scary but here ya go:
Kind of a bummer. Literally.
So how's about to make up for it:
A Lineup of Masked Bums
Go forth and gnaw.