Wednesday, December 24, 2014
Meaty Meat Santa Pud and The Paid-to-Pose Elven Hotts Wish You and Yours a Jolly Douchey Christmas!!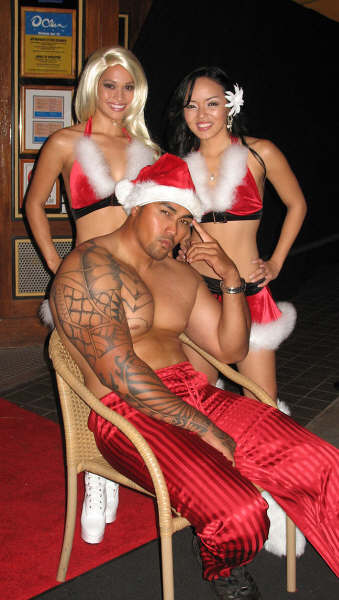 On the Twelfth Day of Christmas, my true blave gave to me… Meaty Meat Santa Pud and the Paid-to-Pose Elven Hotts peeing in the egg noggggg…

Well hello there. Yes. DB1 here. Your humble narrator still wanders the barren landscape of pop culture vibrato.
Still occasionally tripping the riff linguistic with emotive gusto and a packet of HoHos for sustenance.
I may not post all that often these days. But I will do my best to post here and there, or at least every blue moon, in the new year. And then there's always your noblest of crusaders, DarkSock, leading the regs and bringing the mock via time-travel to 2005.
Christmas may not be my holiday. But it's most people's holiday. So on behalf of HC1, BC1, and myself (DB1), here's hoping you have a Merry Christmas, a Happy post-Hannukah, a Festivus grievance or a Spaghetti Monster's noodley appendage. Just make sure you never run into this toxic de-coupling, and that the new year will finally see satan's douche army of Criss Angels macking on tasty brunette cocktail hotts smoted once and for all.
Smited?
Smate?
There is no denying it. The scragglewanks still walk amonst us. Our work is not yet done.
I may no longer lead the daily charge. But I tip my cup of 'Train to all that carry on this noblest of noblest Tikkun Olam. Fight onward. Mock harder. And repose with an enjoyable, tasty sandwich once in awhile. For that is what the great Warren Zevon recommended before he passed onward to that great kitchen in the sky.
Truer words were never spoken.