Tuesday, February 8, 2005
Friday Haiku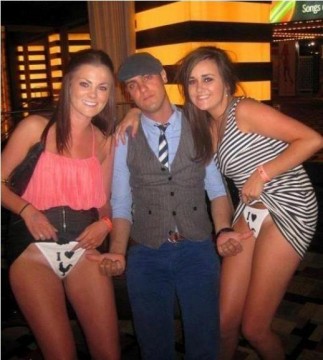 Yo, whose got two thumbs
And has somethin' finger-lickin'good?
Not this fella. Yo.
***
Charles Douchewin wins the Internet this Week, barely edging out D. Wallnuts.  Son.
***
Dr. Bunsen HoneyDouche said…
These two hotts would have
better luck with actual
chickens than with him.

Capt. James T. Douche said...
Under novelty
Panties reveals tan lines that
give me a Renob
Charles Douchewin said…
The new ad campaign
for Australian KFC
is big down under.
The Reverend Chad Kroeger said…
Early twenties is
Funderwear. Soon Father Time
Brings the butt shingles.
DoucheyWallnuts said…
I wish we could trade
These three to the al-Quada
For the deserter
hermit said…
She said unto him,
You'll have three genital warts
before the cock crows.
Jacques Doucheteau said…
So "I love poultry"
is carte blanche for looking like
gerbil wearing tie?