Friday, April 22, 2005
Fraiku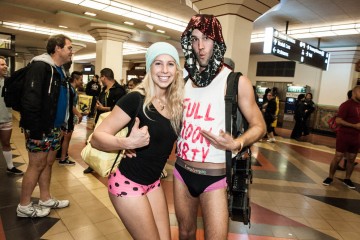 No-Pants Subway Day
Now apparently a thing;
Douchebag Sally Rides
Candyman wields mere
tic tacs, but handles king size
Whatchamacallit.
The knit cap stays on
Whilst I rummage her Coolie
Her Coolie, I says
The knit cap stays on
whilst she uses her man hands
for various chores.
May be "No Pants Day"
But it's sponsored by Valtrex©
Don't sit on benches
Candyman looks like
he's smuggling a roll of Certs
in those unfilled drawers.
The TSA did
A full cavity search on
Him and he liked it
Full Moon Party Guy
Gets a GoinPeace from me;
just leave the Hott please.
Dr. Bunsen HoneyDouche said…
Wearing mom's granny
panties as cowl is invite
to "full moon party".
The only couple
'C's' he wants, are batteries
for that Fresh Boom Box.
In the air one smells
Whiffs of Japanese sarin
Smells like Victory