Monday, April 12, 2010
HCwDB of the Week
Our last Weekly before the Monthly brings three quality cuts of choice U.S.D.B. disapproved hottie/douchey slabs. Three may enter, but only one may taint supreme.
Here's your finalists:
HCwDB of the Week Finalist #1: The Squid Brothers and the Squee Girls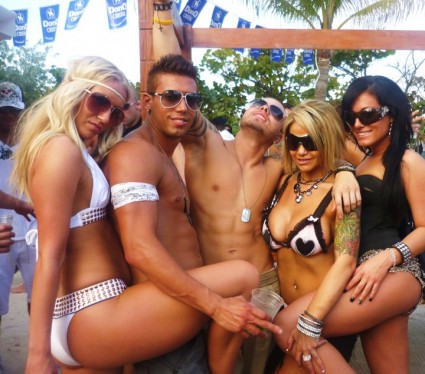 And lets not forget Bernie Squid going solo.
The Squid Brothers are classic Miami "hustler" poo. As such, they are to be mocked, and then kicked out of the Armani store on Miami Beach Drive. Because it's closing. And enough already.
On the flip side, the Squee Girls are raunchy Hooters hott. The type you hate yourself for desiring, then get too drunk to care. I'd don linen bedsheets dressed only in a mumu and with my face and upper shoulder area painted in dayglo Bosnian oils depicting small birds and woodland creatures until Becky Sue called her BFF Monica and asked if I had had a troubled childhood.
And then I would fall asleep, softly whimpering in her detached garage which her parents had planned to turn into a one bedroom until Timmy left for the ROTC.
Do I babble over boobies?
Damn straight I do. I blame my early obsession with the Hot Chick on Mr. Rogers Neighborhood who always talked to King Friday.
HCwDB of the Week Finalist #2: Pleasy Punchmyfacekowitz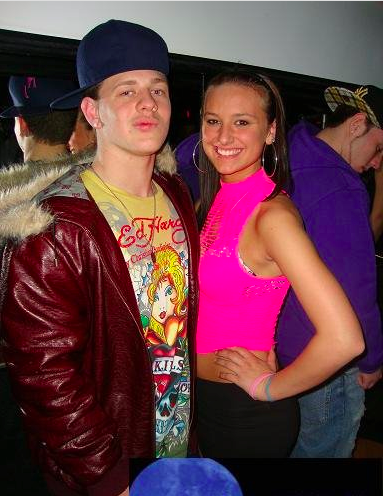 Never has a more appropriate name been bestowed upon a young 'bagling than we find with Mr. Punchmyfacekowitz's moniker.
Clearly, classic 'bag attributes are brought forth in spades in this pic.
And by spades, I mean neuters.
So we can all agree that Pleasy Punchmyfacekowitz deserves to please have his face punched. Kowitz.
But what of Tonya? Surely, she's got real world attributes enough to carry some level of HC to balance the equation.
But enough older sister pro-am skater sexy to win the Weekly?
HCwDB of the Week Finalist #3: Jed the Creepy Wankscrote and Penny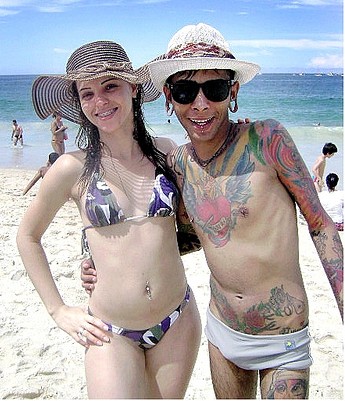 This was a tough one. While Jed the Creepy Wankscrote clearly is one of the most shocking of the next-gen emo cookie ear creepazoid freakshow douchescrotes to ever be featured on the site, Penny's braces just make me uncomfortable.
She's either fourteen, or nineteen. I can't tell anymore.
So I was gonna disqualify the pic on account of Penny being highly probably underage, and hottie lusting really should begin at no earlier than ambiguously 18. However if this ain't HCwDB in all its disturbing imagery, I don't know what is. So it's in. It's made the cut. But lets focus on douche mocking here.
Either way, Jed will be elligible at the 2010 Douchies in the Most Likely to Give the Herp to a Farm Animal category .
Also likely to appear at the 2010 Douchies in one of the Hott categories: The tasty oiled up perfection of Dr. Rosentongue's Maureen.
So them's your three. Which rises to the occasion of most disturbing HCwDB pic?
Vote, as always, in the comments thread.