Monday, June 7, 2010
HCwDB of the Week
With The Sharkbag and Renee our first Weekly winner of the next round, and with The Jizz Singer safely ensconced (hidden forever) in our Closet of Poo, our new round of finalists brings a wide variety of hottie/douchey select to the vote. No classic Jerz Guid here. Just poopie diaper.
Here's your finalists:
HCwDB of the Week Finalist #1: Lenny's Midlife Crisis and Paulina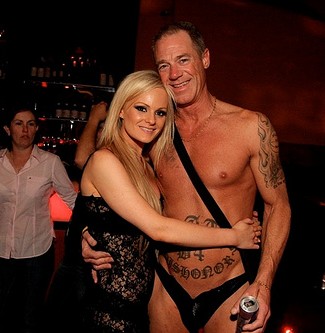 Not since Old Bernie Schwartz used zipper jacket and tri-vag chin pubes to nearly win a Monthly has an Oldbag been this toxic. Lenny's Groin Shave Reveal alone is enough to molt canines.
Interestingly, like Old Bernie Schwartz, Lenny's Midlife Crisis involves a petite blonde suckle thigh, in this case, Paulina from Dusseldorf.
Paulina's remote, humorless German father and manic depressive mother, Klaus and Uta, never gave her affection as a child.
As a result, she finds Lenny's midlife need to tatt up and dress like a gladiator to be a punishment she deserves for being a bad girl.
Lenny just hopes his first wife and three kids don't find out about his double life.
Detracting from Lenny's chances is that, if you ignore the greased up crypto-gay gladiator lifestyle, he kinda looks like your 10th grade history teacher.
Another Oldbag with sag in the Weekly. But enough to win? Not if this coupling has anything to say about it.
HCwDB of the Week Finalist #2: Abe Foxman, Kathy, and The Guy Who Usually Works in the Kitchen But It's His Day Off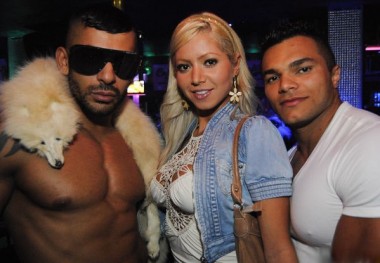 There were a number of greasy clubwanks to be mocked from last week. But none brought a mink stole to the game.
For that innovation alone, along with McBain Goggles That Do Nothing, there was no stopping Abe Foxman and the Anti-Douchimation League from making it to the Weekly.
Like Paulina, Kathy is semi-confused European on holiday. I'm not sure the photo fully shows her off in the most flattering light, but I would bet most mamalians would gnaw on a frog leg if it meant a chance to sniff her swiffer during housekeeping chores in the convent back in Antwerp she joined after Foxman ruined her ability to love herself.
Yup. No idea what I'm saying.
There's a fox on him.
'Nuff said.
HCwDB of the Week Finalist #3: Showie Long and Lynn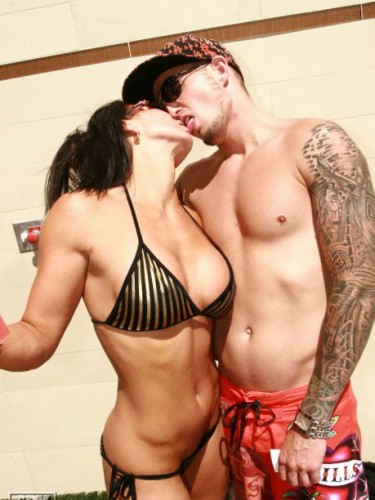 From the Friday Haiku comes this skeezy Ed Hardy shorts wearing Lickbag and a tasty, if partially facially obscured hott marshmellow bod, Lynn.
But tapered sideburns, shaved chest and ridiculous tatted up arm sleeves are classic 'Bag, and thus, Showie earns the Weekly.
As does Lynn, who doesn't even need a face, proving I objectify slutty women.
I blame my environment.
But them's your three.
It was tough but I eliminated some of the more skater-punkery of last week's bags, including The Roadie Choadie, Mopey and the Blondians, and, toughest of all, Mitch: Gangsta of Connecticut. Also, honorable mention to Sinbag's dancing boat hotts, who offer quite the peach gnaw.
Yeah, maybe I should go back and swap out Showie with Mitch, but it's early. Maybe if there's a write-in campaign, I'll consider a revision. But for now, I need your vote. And I need some Honey Bunches of Oats for tasty morning sustenance.
Vote, as always, in the comments thread.