Tuesday, September 7, 2010
HCwDB of the Week
Holiday's over. Lets do this. It's an all Pudster/Hott Weekly. Real world choad. Here are your finalists:
HCwDB of the Week Finalist #1: Andrew's Bro and Kaitlyn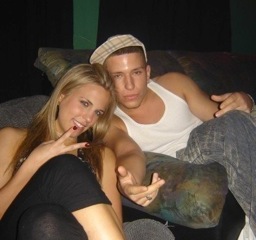 The first Weekly to be reader tagged in awhile, Andrew's Bro is all sorts of layabout fratpud.
And his nice assortment of young, fertile Canadian hotts gives him a quality H.C. balance to the wrongness equation.
Witness the run of suburban cheese in Brobag #2. Brobag #3 and Brobag #4.
Andrew's Bro is the kind who doesn't worry about the future. And as he was tagged by his younger brother, a rarity in 'bag tagging, we don't even have generational disparity to claim a culture gap to excuse his toejammery of posing with the ladies.
Andrew's Bro is a true wankstabag. And Kaitlyn is all sorts of Canadian accented giggle hott.
But enough to take the weekly? Here's our next pudster:
HCwDB of the Week Finalist #2: Neil Hardy and Marsha Hott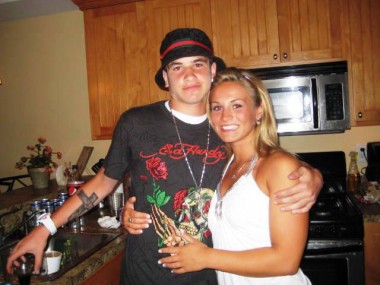 Neil Hardy parties while his parents are out of town at an Insurance Seminar in Aames. Fo' shniebling, dope.
Later, to prove his hip-hop bonafides to the ladies, Neil Hardy snagged chill nottabrothabag Pete, and Uberhott Heather. Because whatever is in the water in Des Moines is producing serious A-Grade barely legals.
Neil Hardy listens to Run DMC even though he was born well into the 90s. Because retro old school rap is "dope, yo."
In a related story, Kurtis Blow just castrated himself.
HCwDB of the Week Finalist #3: The Breaker Morans and Dolla Hotts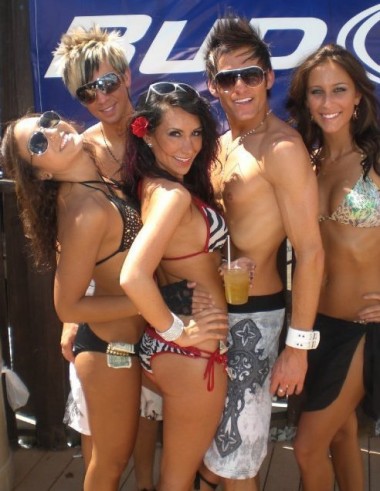 The third slot was the toughest to decide on. And by third slot, I mean Kelly gettin' freaky after too many Mai Tais.
The Breaker Morans are all sorts of Australian war victim period piece Mel Gibson dingo turd.
The Dolla Dolla Bill Yalls offer sweet, perfumed inner thighs that smell like lilacs and sugar plums and scented candle.
Oh Dolla #1. I shall call thee "Foucault" and discuss contested power space. And by contested power space, I mean how far I'll get to touch after I blow 200 bucks on dinner.
(Dis)honorable mention to The Club Moes, my artistic triumph with the avant-garde masterwork American Typhus, The Vegas crud of Pinky and the Butt, Blu Ray, Suburban Gangsta Darren and the Eurocrud of The Utersladder.
While this isn't the most pungent week of hottie/douchey partnering, these are all couples that deserve mock. Granted, whomever we pick today is filling the last slot against foes like Brothabag Darren. Still, we got a job to do so lets do it.
Vote, as always, in the comments thread.