Monday, October 18, 2010
HCwDB of the Month
Only one more HCwDB of the Month left after this one to determine our finalists at the 2010 Douchie Awards in December, and our crowning of this year's HCwDB of the Year. This is one tough contest. Make it count.
Here are your finalists:
HCwDB of the Month Finalist #1: Mister Liptatt and Holly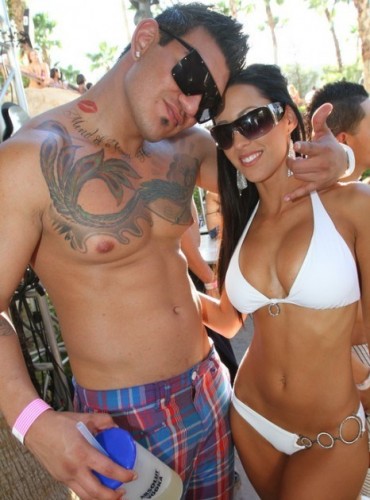 One one singular pic for The Liptatt o 'Doom and Ms. Holly.
But one pic was all we needed.
With chin pube, 'bag hand gesture #41, stupid tatt and nuclear goggles they do nothing, Mister Liptatt is all that is semi-employed at The Gap.
Holly's superlative curves are race-track gnaw.
Together, they order top shelf and bill it to the room.
But enough to win a Monthly? There's certainly enough signifiers present. But we got threes more to go:
HCwDB of the Month Finalist #2: The Kleenexer and Nicola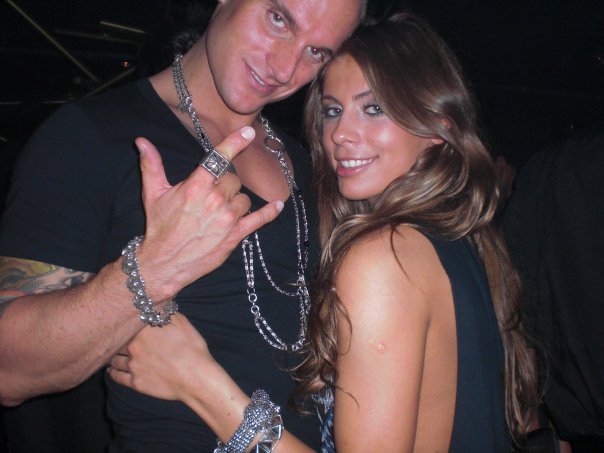 From the Canadian hinterlands of Toronto comes this hottie/pooey club disaster that Bob and Doug McKenzie would bemoan with a brew.
Check the run of toxic phlegm: run of party douche, Kleencrotch #3, Woody Woodpanel, and The Kleenexer, Nicola and Some Ninny.
Contasting with Liptatt's southern ass-scrotery, The Kleenexer wipes Nicola with northern club bling and 'tude, harshing many a kitten's mellow.
This is classic pro douche. Paid by the sneer. Setting the template for amateurs the world over to follow in hopes of scoring hottie suckle thigh.
But should we vote pro? Or amateur? Next up:
HCwDB of the Month Finalist #3: Vlad the Inhaler and Natasha
Vlad and Natasha's win/loss was really a two-part flip book of wrongness. First, the pic you see here, and second Licky Nip.
Vlad brings strangely bizarro Eurodouchery to the game. Shirt over head. American Eagle pokey underwear.
And while many have criticized Natasha for being too zaftig of body, I would argue her plumpness is curvy goodness that brings an extra serving of Pear, and should not be easily dismissed.
But can their two pic run of licky nip defeat the pros from Vegas and Toronto?
There's one more finalist to consider:
HCwDB of the Month Finalist #4: The Crustie Brothers and Karen and Sue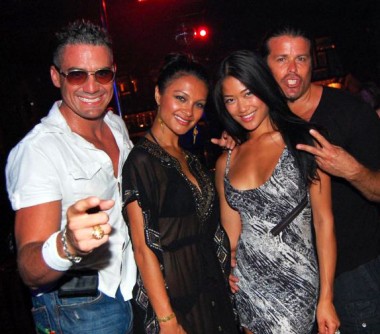 Oldbags hitting on young PTA divorcees who go by their American names, Karen and Sue.
A development so crappy, Robin Williams and John Travolta just signed on to star in the movie version of the Crustie Brothers on a wild vegas adventure, "Old Shite."
Yup.
I have no idea what I'm saying.
But what I'm saying is not important.
What is important is your vote. Which of these four slices of tardy/nuzzle deserve Monthly status and a slot in the 2010 HCwDB of the Year at the Douchie Awards in December?
Vote, as always, in the comments thread.