Monday, February 28, 2011
HCwDB of the Week: Toxic Terry and Angelica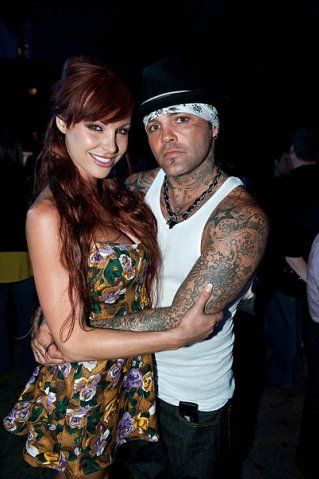 It was a rockerpud douche-slide.
Many, like Army of Doucheness, observed that this may be the douchewank from some briefly famous band called Crazytown. Regardless, no Rockstar Leniency Rule granted.
This wiggachoad deserves our full collective mock. And Angelica's sweet, sweet curves deserve our collective gnaw. Some of the immediate responses:
Wheezer: I smell a Weekly winner. And it's a stench of Axe, poo, and last night's late patty melt rush at the Waffle House.
Douche Springsteen: Is that the dude from Crazy Town? And is that some sort of hybrid of Peg Bundy / Donna from That 70s Show that escaped from a lab that brings my bizarre TV sitcom character sex fantasies to life?
Luis Douchuel: Oooh celebridouche. Somehow this makes me feel better. And by feel better I mean puke.
Mr. White: re: the Crazy Town douche AND the Katy Segal hott. I want her to dress up like Lela from Futurama and play cyclops sex games with me.
Foxy Mocksy: Tough guy exterior with emotional problems interior is like crack to the ladies. You are most assuredly correct DB1. The ladies that can't see through this ploy. Take your wounded tattooed bunny routine elsewhere douchebag.
Deltus: She is far too tasty yumm gargle rinse repeat to be anywhere near him, "celebrodouche" or not. Actually tough guys would wipe their asses with him. Not his shirt, mind, but *him*.
But Magnum Douche P.I. sums it up best with the following:
The term "celebrity" has gotten extremely watered down over the past few years. This guy is a slapable douche, no matter if he was on some reality show I never hear of or not.
Yes. Yes he is. And she is tasty.
Together, a quite viable hottie/douchey dialectic to go with your Monday Irish Coffees, and a worthy next entrant in our next HCwDB of the Month.
(Dis)honorable mention to the increasingly nottadouche and heroic Frobot, Skippy and Timmy Playboy Gangstas, The infant suckletude of Sailor Sam and Kelly, and the irritating Angry Lip Guy Shushes You. Also there was the confounding Kennedy Head Wound 'Bag, and, of course, the important news that The Donkster Goes Free!
An important week of douchable developments on many fronts. But now your humble narrator will eat a bowl of Frosted Flakes. Or two.