Monday, March 21, 2011
HCwDB of the Week: The Poos Brothers and Terézia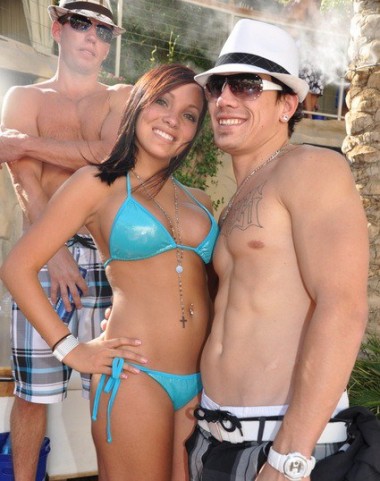 Given last week was the Monthly, we had over two weeks of pubster/hottlick to go through and parse, and the parsin' was parcimonious.
But while I almost gave it to the ambiguous lesbianity of Troll Dog, in the end, the hottie/douchey dialectics of the Poos Brothers acting stupid near eastern euro hott body, was too strong not to (dis)honor.
For the Poos Brothers are a twin duality of name-brand suckage.
Ginormous watches and hipster stupid hat.
Half finished chest tatts and the beginnings of Hitler Chin.
All mixed with the perfect suckle bobbles of Terézia from Bratslava.
Combined, that's a toxic combo and a worthy Weekly winner.
In a two week period that saw us run the gamut from Gay Australian Cowboys to Canadian Wipes, the tasty tatines of Johnny Dipp's Caribbean Hott, the creepy freakshow of Who Wears Short Shorts?, the mating calls of "Asswipius Douchevegas," and the weirdness of Scoliosis Joel, this was a tough one. But an (un)worthy one.
Chalk up our first entrant in the next Monthly, and your humble narrator for sugar enhanced Trader Joes corn flakes.