Monday, April 25, 2011
HCwDB of the Week: Pukey Bowie and Hott Jenn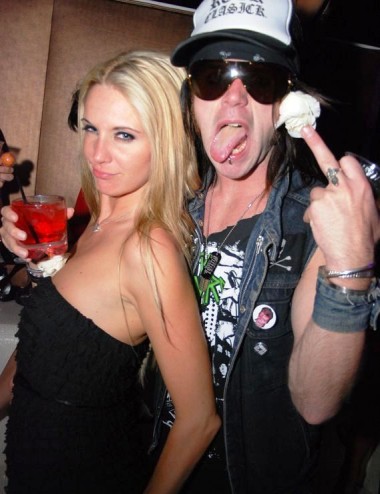 There were Bropecs and Scarf Fail. Strapperface and Ziggy the Sneery Mug Guy. There was even Granpa Chin.
But none of the past two weeks of Hottie/Douchey cohabit quite made me spit on a nun and bitch slap a penguin quite like Pukey Bowie, he of the rocker douche genus, and Hott Jenn's giggley giggles.
Not even the closest runners up (and likely 2011 Douche Award nominee in something), the rank Captain Lubing and perfect Tracey Gnaw.
With a two week backlog to go through, as last week was the Monthly, it came down to which douche was most punchworthy in presence of tasty hott.
And Pukey Bowie, with his rockerbag assrankery, his everything that pisses you off in the post college years, combining with tasty curvy Hott Jenn, was just too much piddle out the rear of a poodle.
So while it's an early Monday morn, and your humble narrator is stumbling around his living room trying to remember how to make coffee, even with a sweet new Keurig machine, this is an award well deserved.
Mark the Puker Bowie and Hott Jenn as the first and well deserved entrant in the next HCwDB of the Month.
And the DB1 for Cocoa Puffs.