Saturday, May 21, 2011
Colonel Slanders – Bag or NottaBag?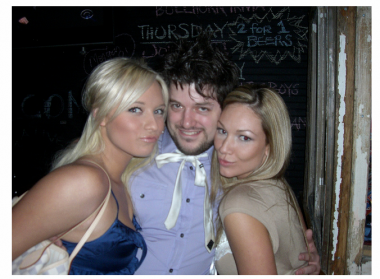 Behold. When confronted with a full court (boobie) press by Darla and Mindy, this young man had a choice. He could have:
1.) bellowed "YARRR", grabbed these ultra-hotts like pirate's wenches, and burst through the bar's greasy storefront window, flailing hornily into the foggy night, or
2.) He could have rocked an involuntary Clint Eastwood squint and prematurely besmirched his zipper area, which his cocker spaniel would later sniff as the trousers lay crumpled on the living room floor, discarded on his futile trip to make beer yodels into the mouth of the porcelain dragon…but nope.
He picked 3.) Rework his silly ass white tie into a Colonel Slanders string bowtie and serve up a bucket of original recipe Stage 1 baggery.
I would have, of course, picked option 2.
What say you all? Does the Colonel stand in judgment of proto-baggery, or is he just like one of us: a hapless victim of Thursday 2-for-1 beer specials and a miserable Friday work hangover? It's a slippery slope. Firm slopes…supple…erm, be right back…I seem to have besmirched my zipper.  Which took some mad yogurt slinging skillz, since my pants are across the room.