Tuesday, May 31, 2011
HCwDB of the Month
Bring it.
Your humble narrator is back in action, and today is a big day. Today we select the winners of the HCwDB of the Month and next entrants in the hallowed HCwDB of the Year at the Douchie Awards in December.
Here's your choices:
HCwDB of the Month Finalist #1: Pukey Bowie and Hott Jenn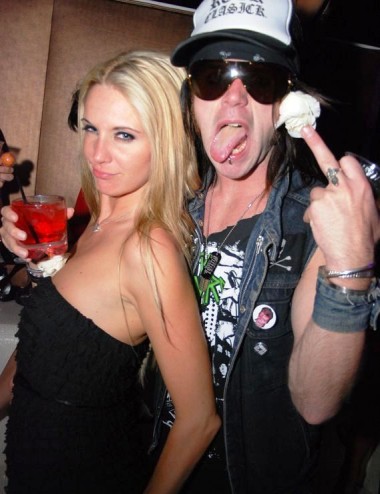 This classic pairing of rocker wipestain and sexy giggle butt belly slappy pooch hotty hott harkons back to the halcyon days of HCwDB when we mocked Deathtongue and lusted Quartasian Mia Sara Hott.
Jenn is pure like snowflake, no one could ever stain.
The memory of her boobies will never cause me pain.
Yeah, I'm quoting the great Peter Wolf. Lead singer of master bar-room thespians, the J. Geils Band, and he who snagged '70s Faye Dunaway Bonnie Hott.
But we am not here to talk about Peter Wolf shagging Faye Dunaway.
We are here to mock rocker choad like Pukey Bowie for all that is phoney and store-bought fraud in douche culture.
And determine our monthly coupling winner. And we got three more in the mix:
HCwDB of the Week Finalist #2: Buzzy Fails to Appreciate Marissa's Taut Sundials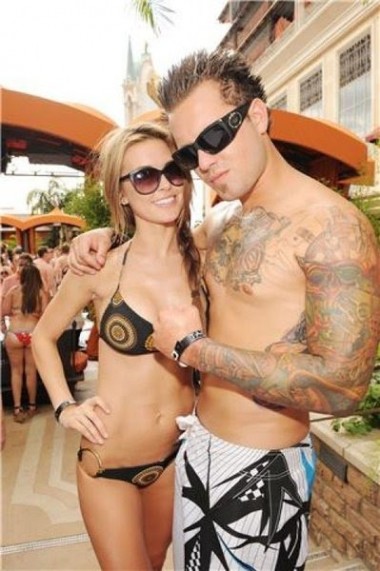 Buzzy is all that has gone toxic in American masculity in the age of the tribal tatt and hair grease.
Marissa is firm, taut suckle thigh, who may or may not be have been from some form of reality T.V. in the past.
But there is no reality T.V. at HCwDB.
There is only Cleavite.
And stupid Vegas choad.
Cohabiting. Wrongly.
I would spittake through a bad 1960s sitcom starring Don Knotts and Phyllis Diller just for the chance to vast her wastelands in an angry speech before Congress.
There is no doubt this coupling is beyond wrong and deserves our collective disdain.
But are they enough to win? Does hottie/douchey dialectic rise to Yearly levels?
HCwDB of the Month Finalist #3: Evil Bert and Dead Bin Laden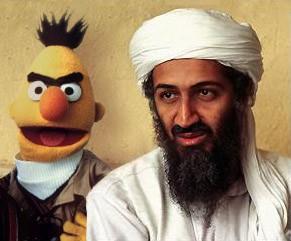 Okay, this is a strange one, but rules is rules. I gave this evil pairing of strange douchosity a Weekly Win, and so they're in the Monthly.
Evil Bert is the Hot Chick of this equation, harkoning back to when you were four years old and got confused that Bert and Ernie shared a bedroom.
Bin Laden's douchery needs no further elucidation. But when his ass went down, it deserved a Weekly enshrinement.
And so the Bert/Bin Laden HCwDB pairing makes the Monthly.
Enough to win? Who knows? That's up to you. Stranger things have happened at HCwDB.
But there's one more global terrorist on the list. And his name is Pumpin'head:
HCwDB of the Month Finalist #4: Peter Pumpin'Head and Mary Mammtastic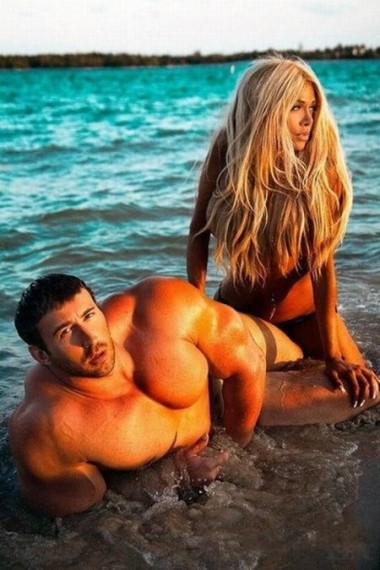 An erupture of pumped up uberschlort that occured on DarkSock's watch, some have observed that the Peter and Mary Gospels were actually written back in 2010 when Peter appeared as Veg Armstrong.
Veg made another appearance with UberArm and Pauline.
But whether appearing in 2010 or not, this site is about highlighting the extremes that the male will go to to peacock for the hot chick. And Pumpin'head, even lacking the more obvious douche signifiers of Pukey Bowie, Buzzy or Bin Laden, is that inflatadouche.
The Pumpy-esque (R.I.P) run of Peter and Mary's inflation and spectacle is epic.
Unfortunately due to over-Weeklying, I had to drop last week's U.S Olympic Synchronized Nodding Team and Grecian Greta from the mix, but they didn't stand a a chance against this competition anyway.
So I'm back, baby. But I need your help.
Which of these four couplings deserves the win/loss and our collective mock?
This site is nothin' without you, so vote, as ever, in the comments thread.