Monday, June 6, 2011
HCwDB of the Week: Clifford The Big Red 'Bag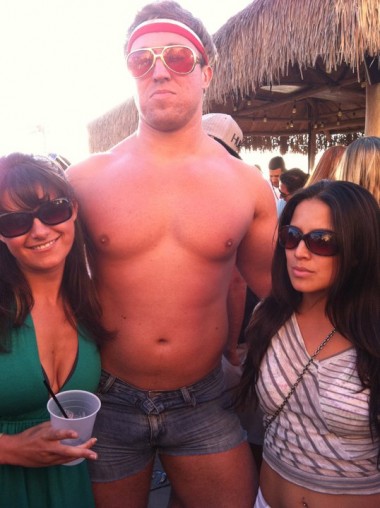 While Emperor Hairoheato and the ubergnaw Stephanie gave Clifford and the Tonya Twins a run for the Money, in the end inflated red douchery with two sexy sweet, if pouty, twins from Hibbing, Minnesota, was too much to overcome.
Simply put, way too tight jorts, stupid mandana, and douche-face in presence of brunettes is a winner (loser).
And anyone who claims irono-baggery, think again. You don't wear too tight jorts like that on a whim. That is learned douchery. And thus, a worthy mock.
Additional noteworthy pics last week included Krista's Poor College Life Choices for offering tasty collegiate suckle thigh, and the surreal, Guggenheim Show inclusive Douchebags on Boats, both of which may be in the running for 2011 Douchie Awards.
But this was Clifford 'Bag's week to horrify the masses through sperm-altering groin tightness and red nips. And both of the Tonya Sisters are gracefully moving into "Sexy Young Mom" territory, and are to be celebrated as such.
Together, they make a worthy Weekly winner as we build towards the next Monthly in a few weeks.