Friday, July 22, 2011
Are Tatts Inherently Douchey? The Debate Continues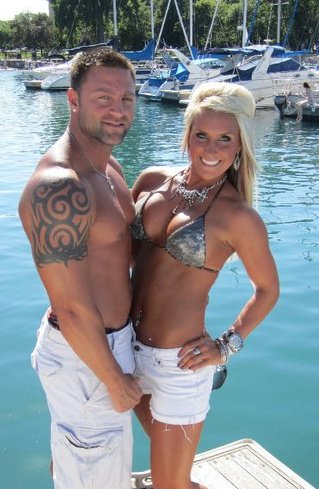 Fired up by Wednesday's discussion of whether sleeve tatts are autodouche, an exellent Talmudic debate engaging higher scrotological metaphysical considerations, I thought I'd post Andy and Andrea.
Andrea, of course, is standard issue midwest hard-ass and slightly terrifying wafer milf. An annoying accent and probably terrible in bed, but of the ladies who participate in the Church of the Slutty Mary's annual bakesale, she's the way hottest of the bunch.
But Andy?
Andy's not so much a douche at all. Except for some undies poke, which may be incidental, he really doesn't deserve mock. That being said, tribal shoulder tatt does equal douche. So is Andy a 'bag?
Of the pics that I post on HCwDB, I reject dozens a day, and many of them are average bro/shmoes like Andy. So I'm still forced to conclude that most tatts, with the exception of annoying tribal inscriptions and Mayan and Chinese lettering and symbols on people who are neither Mayan nor Chinese (Mayan Eye of Coitus exempted), are not, in and of themselves auto-'bag markers.
But, as with pigeons and poo, tatts are far more likely to be found hanging in the area of major scrotological behaviors.
So lets mark tatts as warning signs. They might not mark douche on their own. But they're a likely entrance drug to a larger choadal world.
With a significant caveat: There is a growing catalog of tatts that do, in fact, mark autodouche simply based on the garishness and stupidity of their existence.