Monday, August 22, 2011
HCwDB of the Week: Wankus McHannibul and Pearielle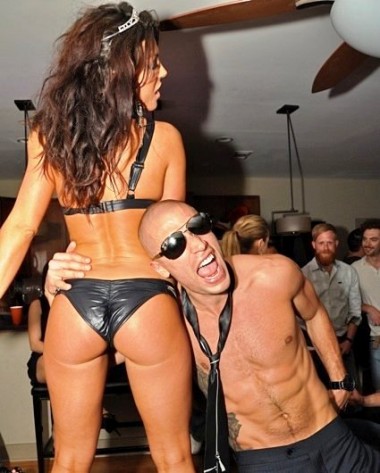 Last week saw visits from the odious Poppa Squatter. The innovation of "Strip Rafting." The near-winners, the coupling that I probably should've given the award to, Keys McKugel and Slutty Shana.And the eurotankery of Aging Andy Pointing out the Obvious. Moob shirts still suck.
We even had Lil' Skippy and Lil' Pepe. I love that guy.
But here's the thing: Wankus McHannibul also appeared pulling spectral rural tri-hotts in Wankus McHannibul Shaves His Groin.
THat's two cuts of bald headed clownbaggery and some quality paid-to-pose entertainment pear slices.
Performative polebaggery in presence of pear munch takes the proverbial cake. SO while the clear paid to pose douchocracy of this coupling almost disqualified the mockage, in the end the hottie/douchey clownwankery was too much to ignore.
Not sure how well they'll do in the Monthly against Joey Lumpcrustowitz and Kate.
Chalk 'em, Dano. And your humble narrator for Trader Joes instant oatmeal.