Tuesday, September 6, 2011
HCwDB of the Week: Sir Ivan and Ashley and Ananda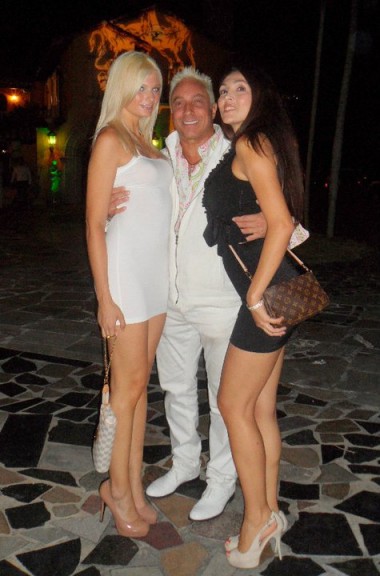 Welcome back from Labor Day, fellow hunters. Hope you are well rested. Now let us resume the holy mock. For our mission continues.
Last week was a notable week for, how you say, bobby bobbs. We had porny bobbs and sweaty bobbs. Ginormous bobbs, Pro Boobs and The Holy Breasteses of the Iroquois Nation. Who also gave us Holy Suckle Pooch.
On the 'bag side, there was The Unibro, who may or may not have me killed by Columbian drug lords, the uberskeezy Lonnie, and the odious Tatt Owl.
But our site is about hottie/douchey dialectics.
And none were worse than Sir Ivan's creepy oldbaggery and the tasty popsicle youth tautchomp of Ananda and Ashley.
Sir Ivan's toxic buffoonery has been bouncing around on the site for months, but this pic seems like the perfect time to mock his ass with a Weekly win (loss).
So this week's Weekly winner goes to odious Oldbag, Sir Ivan, and his Great Nieces, Ashley and Ananda. Sure he's kinda a "pro" douche. But if we don't mock this saggy shweatyballs, then we do not do our job.
Place this pudgy oldbag and his hottie nieces in the next Monthly. And your humb narr for Pop Tarts.