Monday, September 26, 2011
HCwDB of the Week: Tommy Pak, Giggle Ladies with Daddy Issues, and the Hand of the Collective Unconscious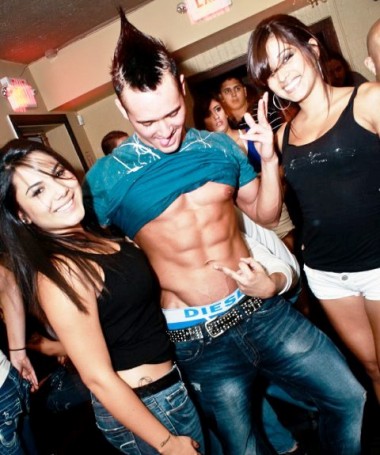 While last week was a notoriously toxic week for douche tatts, what with The Skin Show, the creepy neck hitting on innocence of Coprophagia, yet more from Crazy Eyes Killa (1/2 of the Greasepitz), and the heinous Tatticus Finch.
Yech. Seriously depressing realities of our overstimulated, overtatted culture.
THen there was D.J. Assholio and Random Pocahontas Girl, the Greek myth of Pecopoulous, the jaundice of Old Man Liver, and the great news of Bankrupt Preppiebag.
But none were more poisonous to the ecosystem than this unholy pairing.
Maria and Consuela hate their father, Mario, for uprooting them from Uraguay and moving them to Arizona.
Tommy Pak is uberpudwack. The Hand of the Collective Unconscious speaks for all of us. And adds a delightful touch of the surreal to this kinetic mess.
Chalk this classic Vegas Clownpud and tasty latina burritas for the next Monthly.
And your hungover narrator for early morning HoHos and milk. Cuz I'm healthy like that.