Friday, September 2, 2011
Slash: 'Bag / Nottabag via the Rockstar Leniency Rule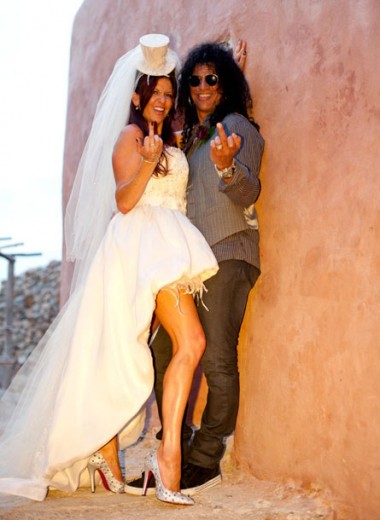 Here's an interesting test of the Rockstar Leniency Rule.
This pic is from Slash's recent wedding. While no one denies Slash's impact on music and talents as a guitarist, his style has always been part of the dress up performativity from his GnR days. Thus the hat, hair, etc. are a sort of costume likened to a fictional presence, and therefore performative.
That being said, it's hard not to find Slash pretty damn douchey, as many have debated.
I'm on the fence. Certainly the top hat look was RLR, just as it was for Axl Rose's mandana thing.
But twenty five years later? Middle age? David Lee Roth knew when to give up the spandex and rocker hair.
Does Slash's 'tude cross over and earn 'bag status? Or does RLR continue?