Monday, November 28, 2011
HCwDB of the Month
Booya! Put down that turkey. Youse got work to do. It's our last coupling selection process for the 2011 Douchie Awards (starting next week). Make it count.
HCwDB of the Month Finalist #1: Herman Herpster and Taut Miranda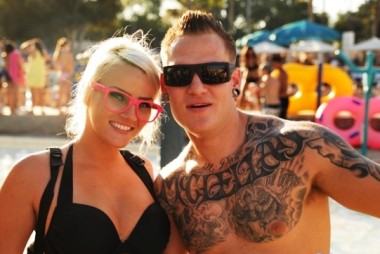 Herman Herpster and Taut Miranda are everything that's rotten at summer herpster BBQs throughout the Tri-State area.
And lets not forget Herman Herpster and Miranda Pic #2.
Together, they form dialectic of pigeon puddle piddle.
A yellow steaming mess of bird pee.
I have no idea what I'm saying.
Up next:
HCwDB of the Month Finalist #2: Frego The Herplicker and Irene the Tongue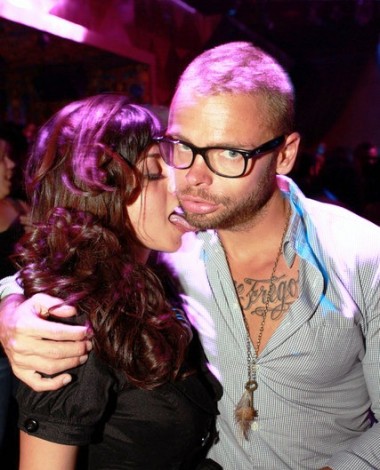 Here's a classic douchepose in mid-action.
A tasty drunk hottie marking her descent into stupidtattland.
With one lick.
One odious lick.
Society collapses under herpster stupid glasses and Euro-Nordic doucheface.
And the baby Jesus piddled on a picture of Tim Tebow.
And all was wrong in Manchester.
But enough to win the monthly? There's a good chance.
Up next:
HCwDB of the Month Finalist #3: The Garglebag and Nadia Ruminate on Heidegger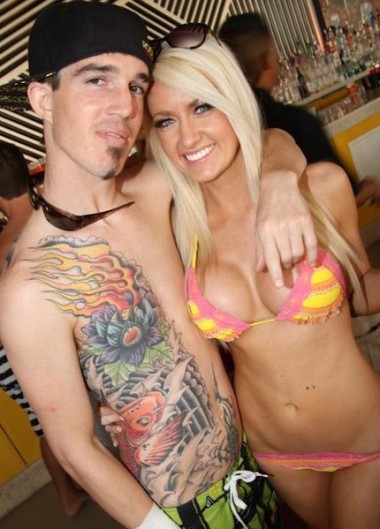 At some point, they'll open up a restaurant in Santa Fe. And chat not about Heidegger, but wine.
A two pic series of wretchedness, let's not forget Garglebag and Nadia #2.
Nadia's gnaw cleavite is impressive, and the Garglebag is putrid.
Another Herpster in the Vegastronic milieu.
Another hottie body that has made a terrible life choice.
And possibly one of the worst tattoos in the history of creation.
Like really, really bad.
I just micturated on a rug.
And it really held the room together.
HCwDB of the Month Finalist #4: Band Promoter Petey and Barely Legal Bonnie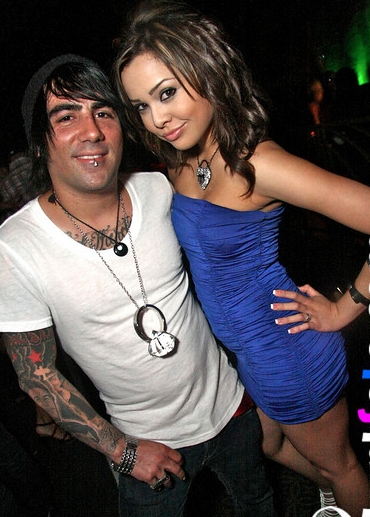 Mmmm… Barely Legal Bonnie has the Zoroastrian Back Arch of Coitus. And G-d saw it. And it was good.
Band Promoter Petey actually has the disposition of a normal dude, but with so many toxic douche signifiers, NO PASS.
He must be mocked. And mocked severely.
But is he douchey enough and is she hott enough to win the very last Monthly of 2011 and earn the last slot at the 2011 Douchie Awards?
That remains to be seen.
I actually went one too many weeks, so I'm leaving off The Entrepeneurbag and Nadijka because methinks she'll merit consideration on her own at the 2011 Douchie Awards, and he's just a puddy band promoter.
Which coupling deserves our last slot for the HCwDB of the Year, starting next week? Vote, as always, in the comments thread.